Weekly Wrap Up...
I have read 3 books this week, which is due to it being half term and me being at home all week too. Wish I could have done more but have been trying to entertain a 6 year old little girl all week.
The first book I have finished is Shadow Hour, I wasn't a fan to be totally honest but I will be telling you why in my upcoming review,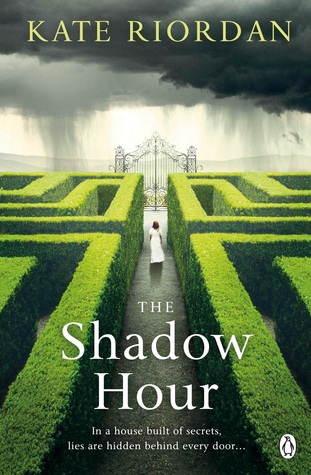 Blurb:
Nineteen twenty-two. Grace has been sent to the stately and crumbling Fenix House to follow in her grandmother's footsteps as a governess. But when she meets the house's inhabitants, people who she had only previously heard of in stories, the cracks in her grandmother's tale begin to show. Secrets appear to live in the house's very walls and everybody is resolutely protecting their own.

Why has she been sent here? Why did her grandmother leave after just one summer? And as the past collides with the present, can Grace unravel these secrets and discover who her grandmother, and who she, really is?
The 2nd one is the 5th wave. I am rather late to this party and I have been wanting to read it since I saw the trailer for the movie. I planned to read it before I watch the movie in the cinema, which is a complete fail on my part because it is now done in the cinema. I loved the book so will have to wait for the dvd now.


Blurb:
After the 1st wave, only darkness remains. After the 2nd, only the lucky escape. And after the 3rd, only the
un
lucky survive. After the 4th wave, only one rule applies: trust no one.

Now, it's the dawn of the 5th wave, and on a lonely stretch of highway, Cassie runs from Them. The beings who only look human, who roam the countryside killing anyone they see. Who have scattered Earth's last survivors. To stay alone is to stay alive, Cassie believes, until she meets Evan Walker. Beguiling and mysterious, Evan Walker may be Cassie's only hope for rescuing her brother-or even saving herself. But Cassie must choose: between trust and despair, between defiance and surrender, between life and death. To give up or to get up.
My 3rd book was You Were Here, I love a good YA and this one didn't disappoint. My review will be up very soon.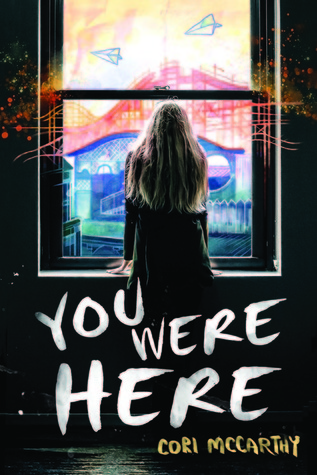 .
Blurb: Grief turned Jaycee into a daredevil, but can she dare to deal with her past?

On the anniversary of her daredevil brother's death, Jaycee attempts to break into Jake's favorite hideout—the petrifying ruins of an insane asylum. Joined by four classmates, each with their own brand of dysfunction, Jaycee discovers a map detailing her brother's exploration and the unfinished dares he left behind.

As a tribute to Jake, Jaycee vows to complete the dares, no matter how terrifying or dangerous. What she doesn't bargain on is her eccentric band of friends who challenge her to do the unthinkable: reveal the parts of herself that she buried with her brother.
Stacking the Shelves...
I have added 3 books to my shelf this week. The first one was a tread for myself. I have received the 2nd one from Titan for review so I need to catch up on the first one.
Blurb:
Kell is one of the last Travelers—rare magicians who choose a parallel universe to visit.

Grey London is dirty, boring, lacks magic, ruled by mad King George. Red London is where life and magic are revered, and the Maresh Dynasty presides over a flourishing empire. White London is ruled by whoever has murdered their way to the throne. People fight to control magic, and the magic fights back, draining the city to its very bones. Once there was Black London—but no one speaks of that now.

Officially, Kell is the Red Traveler, personal ambassador and adopted Prince of Red London, carrying the monthly correspondences between royals of each London. Unofficially, Kell smuggles for those willing to pay for even a glimpse of a world they'll never see. This dangerous hobby sets him up for accidental treason. Fleeing into Grey London, Kell runs afoul of Delilah Bard, a cut-purse with lofty aspirations. She robs him, saves him from a dangerous enemy, then forces him to another world for her 'proper adventure'.

But perilous magic is afoot, and treachery lurks at every turn. To save all of the worlds, Kell and Lila will first need to stay alive—trickier than they hoped.
The 2nd book came from Bookbridgr! And OMG look at this stunning cover. I am so so in the mood for a New Adult read. I cant wait!
Blurb:
Crazy how eight years can disappear in an instant. One look at Katie Watts, and I'm a fifteen-year-old again—the one who risked everything to save a terrified girl from her twisted kidnapper. She's grown-up now—beautiful, quiet, composed—and telling her story to the world. A story that involves me in more ways than you can imagine. She used to call me her guardian angel. Sure, I risked my life, but she was worth dying for.

I need to make contact with her. Just to ensure that she's safe.

Somehow we reconnect. We become friends . . . but I want more. I want to make her mine. And she wants me too. Does she know who I am? Has she figured me out? Not yet. But she will. In the meantime, I need to make sure that whatever hold that animal had on her is gone.

So, yeah, I'm stealing these moments with her. Savoring them. Knowing, dreading, that she'll soon find out who I really am. And everything
will
fall apart. All because of that twisted, perverted monster sitting on death row. Her kidnapper. A convicted serial killer.

My father.
My 3rd book was a complete surprise... Thanks to Headline Books! It sounds amazing and its so so so pretty. I do love a good surprise!
Blurb:
Miss Ona Vitkus has - aside from three months in the summer of 1914 - lived unobtrusively, her secrets fiercely protected.

The boy, with his passion for world records, changes all that. He is eleven. She is one hundred and four years, one hundred and thirty three days old (they are counting). And he makes her feel like she might be really special after all. Better late than never...

Only it's been two weeks now since he last visited, and she's starting to think he's not so different from all the rest.

Then the boy's father comes, for some reason determined to finish his son's good deed. And Ona must show this new stranger that not only are there odd jobs to be done, but a life's ambition to complete . . .