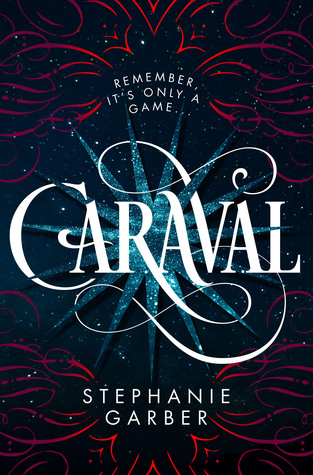 Remember, it's only a game…

Scarlett Dragna has never left the tiny island where she and her sister, Tella, live with their powerful, and cruel, father. Now Scarlett's father has arranged a marriage for her, and Scarlett thinks her dreams of seeing Caraval—the faraway, once-a-year performance where the audience participates in the show—are over.

But this year, Scarlett's long-dreamt-of invitation finally arrives. With the help of a mysterious sailor, Tella whisks Scarlett away to the show. Only, as soon as they arrive, Tella is kidnapped by Caraval's mastermind organizer, Legend. It turns out that this season's Caraval revolves around Tella, and whoever finds her first is the winner.

Scarlett has been told that everything that happens during Caraval is only an elaborate performance. Nevertheless she becomes enmeshed in a game of love, heartbreak, and magic. And whether Caraval is real or not, Scarlett must find Tella before the five nights of the game are over or a dangerous domino effect of consequences will be set off, and her beloved sister will disappear forever.

Welcome, welcome to Caraval…beware of getting swept too far away.
So I am finally back reviewing books. YAY! However I have never stopped reading. While my reading has gone down some, I have still managed to read 40 books so far this year and I haven't reviewed any of them yet. But I plan to catch up on most. Starting with this gem right here. Caraval has been one of them most anticipated books in a very long time. Everyone has been talking about it, weather it was in the blogging world or on twitter. Let me tell you this! Rightly so!! This book was like no other. It was filled with magic and a unique world like never seen before. I was drawn into it in no time and was unable to put this book down. I couldn't help but fall in love with all the characters and be intrigued by the game itself. If you haven't heard of Caraval by now, you must have been living under a rock. So I wont go into much detail but I want you to know that I have loved this bool very much. And even tho its been a while since I have finished it i still remember it as if it was yesterday, even tho there was about 39 others since...
I can not wait for the second book, which by now is not too far away. So before its time for Legendary and you haven't yet dug into this one, you really should!