WWW Wednesday is a meme hosted by Sam at
Taking on a World of Words
. It's open for anyone to join in and is a great way to share what you've been reading! All you have to do is answer three questions and share a link to your blog in the comments section of Sam's blog.
What are you currently reading?
What did you recently finish reading?
What do you think you'll read next?
I am currently reading...
Melanie is a very special girl. Dr Caldwell calls her "our little genius."

Every morning, Melanie waits in her cell to be collected for class. When they come for her, Sergeant Parks keeps his gun pointing at her while two of his people strap her into the wheelchair. She thinks they don't like her. She jokes that she won't bite, but they don't laugh.

Melanie loves school. She loves learning about spelling and sums and the world outside the classroom and the children's cells. She tells her favorite teacher all the things she'll do when she grows up. Melanie doesn't know why this makes Miss Justineau look sad.
I have recently finished...
In this chilling psychological thriller, one woman's dark past becomes another's deadly future

In 2003, sixteen-year-old Rebecca Winter disappeared.

She'd been enjoying her teenage summer break: working at a fast-food restaurant, crushing on an older boy and shoplifting with her best friend. Mysteriously ominous things began to happen—blood in the bed, periods of blackouts, a feeling of being watched—though Bec remained oblivious of what was to come.
Eleven years later she is replaced.

A young woman, desperate after being arrested, claims to be the decade-missing Bec.

Soon the imposter is living Bec's life. Sleeping in her bed. Hugging her mother and father. Learning her best friends' names. Playing with her twin brothers.

But Bec's welcoming family and enthusiastic friends are not quite as they seem. As the imposter dodges the detective investigating her case, she begins to delve into the life of the real Bec Winter—and soon realizes that whoever took Bec is still at large, and that she is in imminent danger.
I plan on reading next...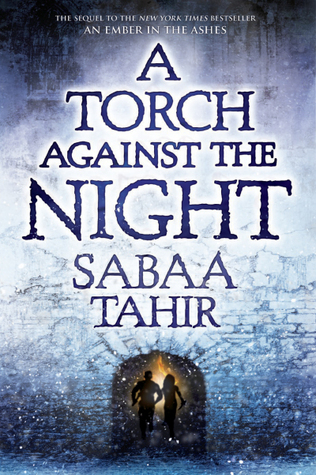 Elias and Laia are running for their lives. After the events of the Fourth Trial, Martial soldiers hunt the two fugitives as they flee the city of Serra and undertake a perilous journey through the heart of the Empire.

Laia is determined to break into Kauf—the Empire's most secure and dangerous prison—to save her brother, who is the key to the Scholars' survival. And Elias is determined to help Laia succeed, even if it means giving up his last chance at freedom.

But dark forces, human and otherworldly, work against Laia and Elias. The pair must fight every step of the way to outsmart their enemies: the bloodthirsty Emperor Marcus, the merciless Commandant, the sadistic Warden of Kauf, and, most heartbreaking of all, Helene—Elias's former friend and the Empire's newest Blood Shrike.

Bound to Marcus's will, Helene faces a torturous mission of her own—one that might destroy her: find the traitor Elias Veturius and the Scholar slave who helped him escape…and kill them both.