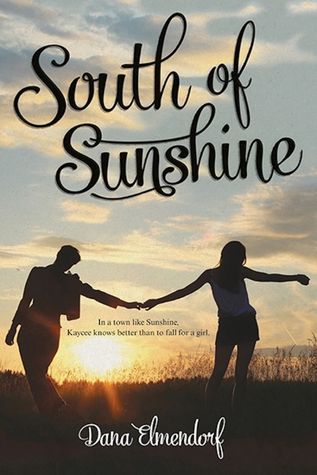 What is Kaycee willing to risk for the sake of love?
And what will she risk for acceptance?

In Sunshine, Tennessee, the main event in town is Friday night football, the biggest party of the year is held in a field filled with pickup trucks, and church attendance is mandatory. For Kaycee Jean McCoy, life in Sunshine means dating guys she has no interest in, saying only "yes, ma'am" when the local bigots gossip at her mom's cosmetics salon, and avoiding certain girls at all costs. Girls like Bren Dawson.

Unlike Kaycee, Bren doesn't really conceal who she is. But as the cool, worldly new girl, nobody at school seems to give her any trouble. Maybe there's no harm if Kaycee gets closer to her too, as long as she can keep that part of her life a secret, especially from her family and her best friend. But the more serious things get with Bren, the harder it is to hide from everyone else. Kaycee knows Sunshine has a darker side for people like her, and she's risking everything for the chance to truly be herself.
This is the story of Kaycee, who has been hiding who she really is for some time. While living in small town, she does not think anyone is going to be accepting of her sexuality. To hide her true self she is trying to date boys, even tho its the last thing she wants. But it doesn't seem worse then the fear of everyone finding out that Kaycee really likes girls. Even her closest friends have no idea. But when the beautiful, sporty and new Bren turns up at the school Kaycee is forced to face her feelings and the truth. At first she tries to stay away from Bren, but she is drawn to the girl.
While Kaycee and Bren are getting closer her fear of discovery grows. What will her mum do when she finds out. Kaycee tries everything to keep her relationship with Bren hidden. But will she go to far? Could she be pushing away the people that really matter?
I really liked this book. It painted a very real picture of a teenager on their journey of coming out. It shows all the aspects, be it Kaycee's fear, be it the beautiful acceptance and even the ugly side of it. Its sad to think that in this day and age it is still so hard for some teenagers and even worse that there is still people who react in such a negative way.
This book is about love, about coming out to your friends and family, about being true to yourself and its about friendship. There is many surprises within the story and I really liked all the characters. Most of all Kaycee's friend Van.
Its a lovely love story and really warmed my heart. The story flows really nicely and never gets boring. I believe there should be many more books about same sex relationships and not just stories about the struggle to come out. All in all this was a lovely book with a inspirational end. A good YA read that I am glad I had the chance to review.
Thank you to NetGalley for my copy in exchange for my honest review.
South of Sunshine is out tomorrow, 31st March!