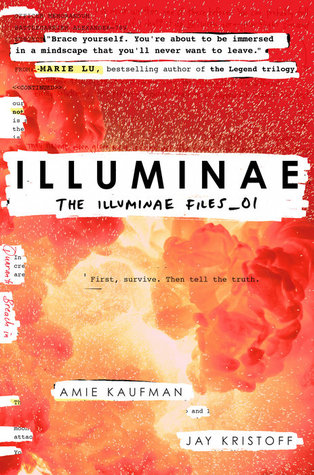 This morning, Kady thought breaking up with Ezra was the hardest thing she'd have to do.

This afternoon, her planet was invaded.

The year is 2575, and two rival megacorporations are at war over a planet that's little more than an ice-covered speck at the edge of the universe. Too bad nobody thought to warn the people living on it. With enemy fire raining down on them, Kady and Ezra—who are barely even talking to each other—are forced to fight their way onto an evacuating fleet, with an enemy warship in hot pursuit.

But their problems are just getting started. A deadly plague has broken out and is mutating, with terrifying results; the fleet's AI, which should be protecting them, may actually be their enemy; and nobody in charge will say what's really going on. As Kady hacks into a tangled web of data to find the truth, it's clear only one person can help her bring it all to light: the ex-boyfriend she swore she'd never speak to again.

Told through a fascinating dossier of hacked documents—including emails, schematics, military files, IMs, medical reports, interviews, and more—Illuminae is the first book in a heart-stopping, high-octane trilogy about lives interrupted, the price of truth, and the courage of everyday heroes.
WOW WOW WOW I don't even know where to begin. Why did I wait this long to read it! Let me say one thing... Your bookshelf needs this!
I cant even do my usual little recap of the story because this isn't easy to explain. There is a lot happening, its very sci-fi and YA in one. But its written in the most unique way possible, we get to read files, emails, notes of cctv, chats.... and all those things give you such a different reading experience. Added to this there is even some visual stuff too that is so cool and unique. I could not put this down at all.
But that is not the only great thing about this book of course. The story those files produce isn't to shabby either. I was so hooked from the start. There is always something happening and the characters are great. The love story in this is stunning and it broke my heart in pieces. Kady is so strong and she knows exactly what she wants to do, which is to do the right thing. And Ezra is just so easily to fall in love with.
I can not praise this book enough, what a smashing page turner, filled with everything a good book needs and so much more. Kaufman and Kristoff have created something that will hopefully inspire many other authors, to do something similar in the future. Those two are an incredible team and I am already excited for their next book .
Be kind to your bookshelf and add this beauty to it, your bookshelf will be forever grateful.