Weekly Wrap Up...
I have read 2 books this week. The first one was Summer Nights at the Moonlight Hotel, which was a nice and light romance. You can read my review here. Also over on my Twitter I am giving away my ARC copy, the giveaway ends today so hurry over and good luck.
'LEARN TO SALSA DANCE,' the card in the shop window read. 'Experience the red-hot vibes of Latin America right here in the Lake District. Beginners and singles welcome.'

Lauren Scott lives in 'The most romantic place in Britain', but her love life is about as successful as her mountain climbing skills. The man she's obsessed over for two years has proposed to someone else - and her only solution is to save up for six months to go travelling, so she never has to set eyes on him again.

But when her friends sign her up for a dance class - in the same historic hotel where her beloved dad worked and her most precious childhood memories were formed - Lauren makes a horrifying discovery. It's been sold to a faceless budget chain, which has depressing plans in store. Worse, the entrepreneur behind it all turns out to be among a group of guys her friend Cate roped in to join the very same salsa class they've signed up for....
The second book I have finished is Flawed by Cecelia Ahern, which is a very fresh and different direction for her. I thoroughly enjoyed the change in her style. Both books have been published on Thursday. And my review of Flawed will be up tomorrow.
The stunning YA debut from internationally bestselling author Cecelia Ahern.

Celestine North lives a perfect life. She's a model daughter and sister, she's well-liked by her classmates and teachers, and she's dating the impossibly charming Art Crevan.

But then Celestine encounters a situation in which she makes an instinctive decision. She breaks a rule and now faces life-changing repercussions. She could be imprisoned. She could be branded. She could be found FLAWED.

In this stunning novel, bestselling author Cecelia Ahern depicts a society in which perfection is paramount and mistakes are punished. And where one young woman decides to take a stand that could cost her everything.
Unfortunately I have also had a book I couldn't finish. The blurb got me really excited but it wasn't for me in the end. I have really tried but I just couldn't get into it at all. I still very much hate when that happens. I am sure someone else will love this tho.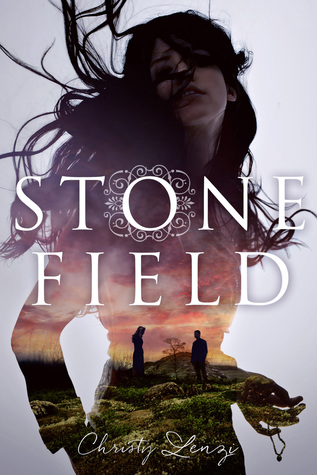 In a small town on the brink of the Civil War, Catrina finds a man making strange patterns in her family's sorghum crop. He's mad with fever, naked, and strikingly beautiful. He has no memory of who he is or what he's done before Catrina found him in Stone Field. But that doesn't bother Catrina because she doesn't like thinking about the things she's done before either.

Catrina and Stonefield fall passionately, dangerously, in love. All they want is to live with each other, in harmony with the land and away from Cat's protective brother, the new fanatical preacher, and the neighbors who are scandalized by their relationship. But Stonefield can't escape the truth about who he is, and the conflict tearing apart the country demands that everyone take a side before the bloodbath reaches their doorstep.
It has been a quiet week for my shelves this week. However there was one massive surprise in my post box this week. I love a good surprise. Thank you to Avon Books for this one. I cant wait to read it.
You love your family. They make you feel safe. You trust them. Or do you…?

When fifteen-year-old Billy Wilkinson goes missing in the middle of the night, his mother, Claire Wilkinson, blames herself. She's not the only one. There isn't a single member of Billy's family that doesn't feel guilty. But the Wilkinson's are so used to keeping secrets from one another that it isn't until six months later, after an appeal for information goes horribly wrong, that the truth begins to surface.

Claire is sure of two things – that Billy is still alive and that her friends and family had nothing to do with his disappearance.

A mother's instinct is never wrong. Or is it?