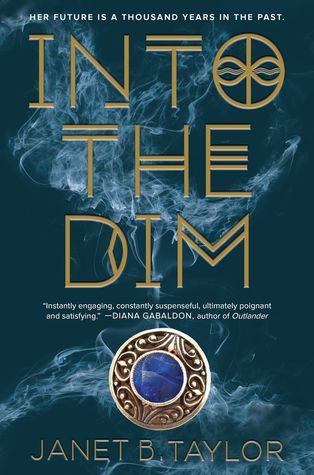 When fragile, sixteen-year-old Hope Walton loses her mom to an earthquake overseas, her secluded world crumbles. Agreeing to spend the summer in Scotland, Hope discovers that her mother was more than a brilliant academic, but also a member of a secret society of time travelers. Trapped in the twelfth century in the age of Eleanor of Aquitaine, Hope has seventy-two hours to rescue her mother and get back to their own time. Along the way, her path collides with that of a mysterious boy who could be vital to her mission . . . or the key to Hope's undoing. Addictive, romantic, and rich with historical detail, Into the Dim
is an Outlander
for teens.
This book managed to get some big hype when it was put on netgalley to read now and I have downloaded it almost without knowing anything about it. I often take a gamble here and there and this one has paid off.
Maybe because I expected so much from it, I found it that little bit slow at first. But shortly after this book turned really good and I totally enjoyed it.
After the death of her mother there is almost nothing to hold Hope back at home, the stepdad has already found love with someone else, his mother never made Hope feel welcome at all, so when a letter and invitation from her aunt in Scotland arrives its seems the only way for her.
Soon after arriving at the house in Scotland Hope realises something isn't quite normal here. After exploring the place and finding the most strange things she is caught by her aunt and the rest of her family. Which is left with no choice but to explain things to her that her mother never did. Hopes family is a group of time travellers. Not only that but her mother is alive and stuck in the twelfth century.
Hope goes back in time to save her mother. And this is where it gets really interesting. It almost has a bit of a historical fiction book feel from then on, which I really enjoyed. She finds herself back in a time where women must be very careful to survive. Hope will soon find out how dangerous this time can really be. Will she be able to find her mother?
And to top it all off she finds herself face to face with the mysterious boy she has met back in Scotland. What is he doing in this century and can Hope trust him?
I did enjoy this book a lot, although it is not my favourite in this genre I am looking forward to the next one. Once it gets going it is quite full of action and twists. I have seen some people compare this to Outlander, I cant comment on that at all as I haven't read that or really have the desire too at the moment.
All in all it has been a good and easy read, with a nice twist to the whole time travelling genre. With some romance thrown in of course.
Thank you NetGalley for my copy in exchange for my honest opinion.
Into the Dim is out TODAY!