WWW Wednesday is a meme hosted by Sam at
Taking on a World of Words
. It's open for anyone to join in and is a great way to share what you've been reading! All you have to do is answer three questions and share a link to your blog in the comments section of Sam's blog.
The three Ws are:
What are you currently reading?
What did you recently finish reading?
What do you think you'll read next?
I am currently reading...
.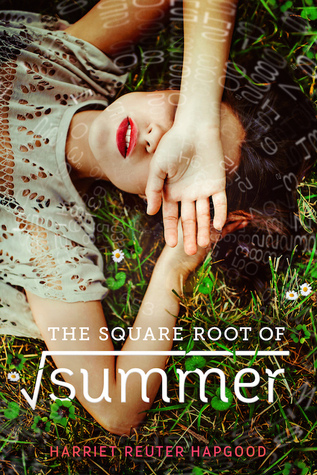 This is what it means to love someone. This is what it means to grieve someone. It's a little bit like a black hole. It's a little bit like infinity.

Gottie H. Oppenheimer is losing time. Literally. When the fabric of the universe around her seaside town begins to fray, she's hurtled through wormholes to her past:

To last summer, when her grandfather Grey died. To the afternoon she fell in love with Jason, who wouldn't even hold her hand at the funeral. To the day her best friend Thomas moved away and left her behind with a scar on her hand and a black hole in her memory.

Although Grey is still gone, Jason and Thomas are back, and Gottie's past, present, and future are about to collide—and someone's heart is about to be broken.
I have recently finished...
The Shadowhunters of Los Angeles star in the first novel in Cassandra Clare s newest series, The Dark Artifices, a sequel to the internationally bestselling Mortal Instruments series. "Lady Midnight" is a Shadowhunters novel.
It s been five years since the events of "City of Heavenly Fire" that brought the Shadowhunters to the brink of oblivion. Emma Carstairs is no longer a child in mourning, but a young woman bent on discovering what killed her parents and avenging her losses.
Together with her parabatai Julian Blackthorn, Emma must learn to trust her head and her heart as she investigates a demonic plot that stretches across Los Angeles, from the Sunset Strip to the enchanted sea that pounds the beaches of Santa Monica. If only her heart didn t lead her in treacherous directions
Making things even more complicated, Julian s brother Mark who was captured by the faeries five years ago has been returned as a bargaining chip. The faeries are desperate to find out who is murdering their kind and they need the Shadowhunters help to do it. But time works differently in faerie, so Mark has barely aged and doesn t recognize his family. Can he ever truly return to them? Will the faeries really allow it?
Glitz, glamours, and Shadowhunters abound in this heartrending opening to Cassandra Clare s Dark Artifices series."
I plan on reading next...
Celestine North lives a perfect life. She's a model daughter and sister, she's well-liked by her classmates and teachers, and she's dating the impossibly charming Art Crevan.

But then Celestine encounters a situation where she makes an instinctive decision. She breaks a rule. And now faces life-changing repercussions.

She could be imprisoned. She could be branded. She could be found FLAWED.

In her breathtaking young adult debut, bestselling author Cecelia Ahern depicts a society where obedience is paramount and rebellion is punished. And where one young woman decides to take a stand that could cost her-everything.
'LEARN TO SALSA DANCE,' the card in the shop window read. 'Experience the red-hot vibes of Latin America right here in the Lake District. Beginners and singles welcome.'

Lauren Scott lives in 'The most romantic place in Britain', but her love life is about as successful as her mountain climbing skills. The man she's obsessed over for two years has proposed to someone else - and her only solution is to save up for six months to go travelling, so she never has to set eyes on him again.

But when her friends sign her up for a dance class - in the same historic hotel where her beloved dad worked and her most precious childhood memories were formed - Lauren makes a horrifying discovery. It's been sold to a faceless budget chain, which has depressing plans in store. Worse, the entrepreneur behind it all turns out to be among a group of guys her friend Cate roped in to join the very same salsa class they've signed up for....