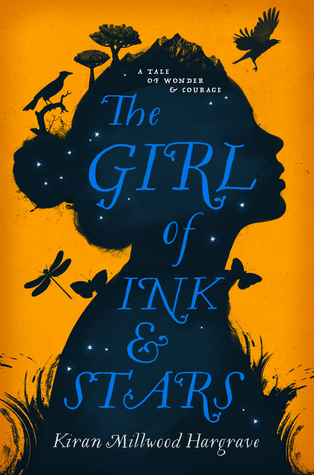 Forbidden to leave her island, Isabella Riosse dreams of the faraway lands her father once mapped.

When her closest friend disappears into the island's Forgotten Territories, she volunteers to guide the search. As a cartographer's daughter, she's equipped with elaborate ink maps and knowledge of the stars, and is eager to navigate the island's forgotten heart.

But the world beyond the walls is a monster-filled wasteland – and beneath the dry rivers and smoking mountains, a legendary fire demon is stirring from its sleep. Soon, following her map, her heart and an ancient myth, Isabella discovers the true end of her journey: to save the island itself.
This book is just beautiful, stunning and beautiful. Yes I know I have put beautiful twice but this book needs it because it is beautiful inside and out. Not only is it a beautiful story but its also very beautiful on the outside. Not just the cover, no, every single page is! But I let you see this for yourself when you pick up this book. Its totally worth it.
Isabella has always been interested in the forbidden parts of the island, as a daughter of a cartographer she would love to capture the unknown. But nobody is allowed into the forbidden territory or even leave the island by sea. When a girl goes missing into the woods at first nobody is willing to look for her. When she turns up dead Isabella's best friend, the governors daughter, sets off for the woods to find what has killed her. Together with the governor, his men and her mothers map Isabella sets off to find her.
What awaits them in the woods is magical and dangerous. Its a story about friendship, loss and freedom. It has the feel of an old tale and is stunningly written. Reading this book gave me much joy and I hope there is much more to come. Its one of those books that is instantly a new favourite. With the sort of characters that you want to keep close for many more books to come.
I absolutely adored this book and I cant recommend it enough. Its a quick read and I totally wish it had many more pages.
Thank you to Kiran Millwood Hargrave, Jazz Barlett and Chicken House Publishing for my copy, which has a special spot on my bookshelf, in exchange for my honest review.
The Girl Of Ink & Stars will be published on 5th May!