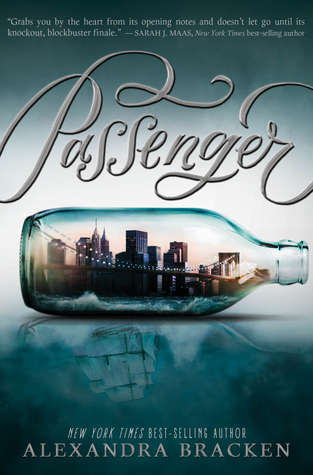 Passage
, n.
i. A brief section of music composed of a series of notes and flourishes.
ii. A journey by water; a voyage.
iii. The transition from one place to another, across space and time.

In one devastating night, violin prodigy Etta Spencer loses everything she knows and loves. Thrust into an unfamiliar world by a stranger with a dangerous agenda, Etta is certain of only one thing: she has traveled not just miles but years from home. And she's inherited a legacy she knows nothing about from a family whose existence she's never heard of. Until now.

Nicholas Carter is content with his life at sea, free from the Ironwoods—a powerful family in the colonies—and the servitude he's known at their hands. But with the arrival of an unusual passenger on his ship comes the insistent pull of the past that he can't escape and the family that won't let him go so easily. Now the Ironwoods are searching for a stolen object of untold value, one they believe only Etta, Nicholas' passenger, can find. In order to protect her, he must ensure she brings it back to them—whether she wants to or not.

Together, Etta and Nicholas embark on a perilous journey across centuries and continents, piecing together clues left behind by the traveler who will do anything to keep the object out of the Ironwoods' grasp. But as they get closer to the truth of their search, and the deadly game the Ironwoods are playing, treacherous forces threaten to separate Etta not only from Nicholas but from her path home... forever.
I really really wanted to love this book very much, ever since I saw it I wanted to own it, the hardback is one of the most beautiful books I have seen especially without its dust jacket on. However instead of loving it I found it was rather hard work. Most of all through the first third of the book. I was very close to putting it down. But then I read a few more reviews which said the book would get better. So I continued and I am glad I did.
The story follows two main characters, Etta and Nicholas. Although Etta has got no idea of her heritage and history. She is being taken from the present day and finds herself on a ship in 1776, where she is a hostage and Nicholas is to take her to New York to deliver her to the Ironwoods. When they arrive there the Ironwoods are holding her mother hostage and expect Etta to find a lost object or her mother will be killed. Together with Nicholas they embark on a mission to find this object, one that can apparently find passages through time. But what can this object really do? Jumping from one time to another, following clues that her mother has left her and being followed by more then just the Ironwoods they find themselves in danger all over again.
Now I really like the concept of the story, but somehow it just came across as just to long and a little dull in places. While I am not shy to pick up a really long book, this one just felt like it was too long. There is some things that could have been left out without really damaging the story. However once you get further into the story it does get better. I think it really gets interesting while the focus is on Etta's and Nicholas' relationship. That was certainly my favourite part of the book. I love their story and how it develops within the book. Nicholas is a really interesting character and I think he has really developed within the story.
I had really high expectations for his book and I am sad they haven't been met. However it wasn't all bad, I did enjoy parts of it and it all came to a rather satisfying end. I am glad I stuck with it and didn't give up. The end leaves you wanting more so I will be anticipating the next book and I am looking forward to finding out what else is in store for Etta and Nicholas.
Passenger has been released on the 7th of April here in the UK.
Thank you to NetGalley for granting my wish and allowing me to read this book in exchange for my honest opinion.