WWW Wednesday is a meme hosted by Sam at
Taking on a World of Words
. It's open for anyone to join in and is a great way to share what you've been reading! All you have to do is answer three questions and share a link to your blog in the comments section of Sam's blog.
The three Ws are:
What are you currently reading?
What did you recently finish reading?
What do you think you'll read next?
I am currently reading...
The key to a house, the key to a heart, the key to a secret—Oyeyemi's keys not only unlock elements of her characters' lives, they promise further labyrinths on the other side. In "Books and Roses" one special key opens a library, a garden, and clues to at least two lovers' fates. In "Is Your Blood as Red as This?" an unlikely key opens the heart of a student at a puppeteering school. "'Sorry' Doesn't Sweeten Her Tea" involves a "house of locks," where doors can be closed only with a key—with surprising, unobservable developments. And in "If a Book Is Locked There's Probably a Good Reason for That Don't You Think," a key keeps a mystical diary locked (for good reason).

Oyeyemi's tales span multiple times and landscapes as they tease boundaries between coexisting realities. Is a key a gate, a gift, or an invitation?
I have recently finished...
You love your family. They make you feel safe. You trust them. Or do you…?

When fifteen-year-old Billy Wilkinson goes missing in the middle of the night, his mother, Claire Wilkinson, blames herself. She's not the only one. There isn't a single member of Billy's family that doesn't feel guilty. But the Wilkinson's are so used to keeping secrets from one another that it isn't until six months later, after an appeal for information goes horribly wrong, that the truth begins to surface.

Claire is sure of two things – that Billy is still alive and that her friends and family had nothing to do with his disappearance.

A mother's instinct is never wrong. Or is it?

Victoria Walters' debut novel is a powerful tale of love, grief and survival, perfect for fans of Cecelia Ahern, Lucy Dillon and Miranda Dickinson. 'Brilliant and superior women's fiction' Heat

In the Cornish town of Talting, everyone is famous for something.

Until recently Rose was known for many things: her infectious positivity; her unique artistic talent; and her devotion to childhood sweetheart Lucas.

But two years ago that changed in one unthinkable moment. Now, Rose is known for being the young woman who became a widow aged just twenty-four.

Though Rose knows that life must go on, the thought of carving out a new future for herself is one she can barely entertain. Until a newcomer, Robert, arrives in Talting for the summer...

Can Rose allow herself the chance to love again?
I plan on reading next...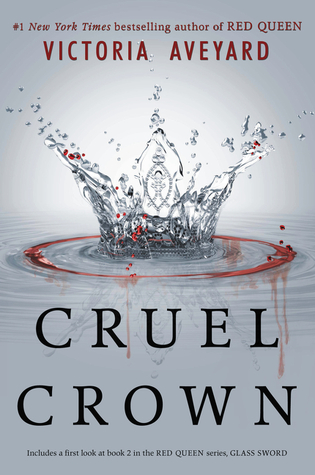 Two women on either side of the Silver and Red divide tell the stories no one else knows.

Discover the truth of Norta's bloody past in these two revealing prequels to #1 New York Times bestseller Red Queen.

Queen Song

Queen Coriane, first wife of King Tiberias, keeps a secret diary—how else can she ensure that no one at the palace will use her thoughts against her? Coriane recounts her heady courtship with the crown prince, the birth of a new prince, Cal, and the potentially deadly challenges that lay ahead for her in royal life.

Steel Scars

Diana Farley was raised to be strong, but being tasked with planting the seeds of rebellion in Norta is a tougher job than expected. As she travels the land recruiting black market traders, smugglers, and extremists for her first attempt at an attack on the capital, she stumbles upon a connection that may prove to be the key to the entire operation—Mare Barrow.
A demigod who can kill with a touch. It's an ability that must be kept secret from everyone, even from those trusted most.

Finding out that her new school had her in a special homeroom for witches was strange enough, but now Nicole must face the realization that she has the rare power to kill with just a touch. It's a secret she needs to keep not only from the Head Elders, but from the super-sexy witch Blake, who she's had undeniable chemistry with even before he broke up with his long-term girlfriend, the vengeful witch Danielle.

Now Nicole and the four others gifted with powers over the elements, including Blake and Danielle, must stop a series of monsters that they previously believed to be dead from rising once again and destroying the mortal world. Three magical items are needed, including the blood of the slain hydra – ingredients that they must journey to the dangerous, mystical islands in Greece to retrieve.

The monsters they face on this journey will be more threatening than anything they've encountered yet. But with the fate of the world on their shoulders, it's up to the Elementals to return home victorious. Will they find the ingredients they need? Can Nicole and her friends pull off this mission while the tension between her, Blake, and Danielle threatens to ruin everything? And how long will it be until Nicole is forced to use her ability to kill in front of everyone, revealing the true darkness of her powers?

Find out in The Blood of the Hydra, and join the Elementals on their next journey in their quest to save the world – or die trying.