Weekly Wrap Up...
I really wanted to read 3 books this week, it was my week off work and I thought its certainly possible. But somehow it didn't happen, I found myself constantly putting my book down, getting up and doing something else. So instead I have finished two books again. The first one being The One-In-A-Million Boy (Review is
here
) and the second one was Passenger (Review is
here
).
A one-in-a-million story for anyone who loves to laugh, cry, and think about how extraordinary ordinary life can be. Not to be missed by readers who loved THE UNLIKELY PILGRIMAGE OF HAROLD FRY, ELIZABETH IS MISSING or THE SHOCK OF THE FALL.

Miss Ona Vitkus has - aside from three months in the summer of 1914 - lived unobtrusively, her secrets fiercely protected.

The boy, with his passion for world records, changes all that. He is eleven. She is one hundred and four years, one hundred and thirty three days old (they are counting). And he makes her feel like she might be really special after all. Better late than never...

Only it's been two weeks now since he last visited, and she's starting to think he's not so different from all the rest.

Then the boy's father comes, for some reason determined to finish his son's good deed. And Ona must show this new stranger that not only are there odd jobs to be done, but a life's ambition to complete . . .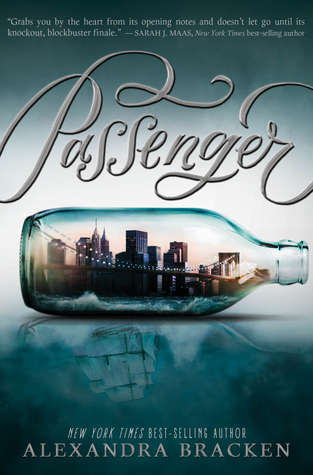 Passage
, n.
i. A brief section of music composed of a series of notes and flourishes.
ii. A journey by water; a voyage.
iii. The transition from one place to another, across space and time.

In one devastating night, violin prodigy Etta Spencer loses everything she knows and loves. Thrust into an unfamiliar world by a stranger with a dangerous agenda, Etta is certain of only one thing: she has traveled not just miles but years from home. And she's inherited a legacy she knows nothing about from a family whose existence she's never heard of. Until now.

Nicholas Carter is content with his life at sea, free from the Ironwoods—a powerful family in the colonies—and the servitude he's known at their hands. But with the arrival of an unusual passenger on his ship comes the insistent pull of the past that he can't escape and the family that won't let him go so easily. Now the Ironwoods are searching for a stolen object of untold value, one they believe only Etta, Nicholas' passenger, can find. In order to protect her, he must ensure she brings it back to them—whether she wants to or not.

Together, Etta and Nicholas embark on a perilous journey across centuries and continents, piecing together clues left behind by the traveler who will do anything to keep the object out of the Ironwoods' grasp. But as they get closer to the truth of their search, and the deadly game the Ironwoods are playing, treacherous forces threaten to separate Etta not only from Nicholas but from her path home... forever.
I have added two new books to my Shelf this week. The first one arrived as a total surprise by Salt Publishing and that's Dead of Winter by Gerri Brightwell. Thank you so much Salt Publishing for my surprise. The second book I have received of NetGalley and I am so so excited about this one. Its Rachel Caine's Paper and Fire. I loved the first book and I cant wait to read this one.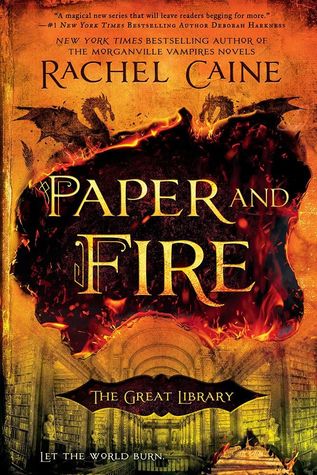 In
Ink and Bone
,
New York Times
bestselling author Rachel Caine introduced a world where knowledge is power, and power corrupts absolutely. Now, she continues the story of those who dare to defy the Great Library—and rewrite history…

With an iron fist, The Great Library controls the knowledge of the world, ruthlessly stamping out all rebellion, forbidding the personal ownership of books in the name of the greater good.

Jess Brightwell has survived his introduction to the sinister, seductive world of the Library, but serving in its army is nothing like he envisioned. His life and the lives of those he cares for have been altered forever. His best friend is lost, and Morgan, the girl he loves, is locked away in the Iron Tower and doomed to a life apart.

Embarking on a mission to save one of their own, Jess and his band of allies make one wrong move and suddenly find themselves hunted by the Library's deadly automata and forced to flee Alexandria, all the way to London.

But Jess's home isn't safe anymore. The Welsh army is coming, London is burning, and soon, Jess must choose between his friends, his family, or the Library willing to sacrifice anything and anyone in the search for ultimate control…