Weekly Wrap Up...
This week I have been away at my parents house in Germany where I have managed to read 3 books. Some very powerful reads. Two of which I still need to review but I don't even know where to start. Those books will stay with me for some time.
The books I have finished this week are...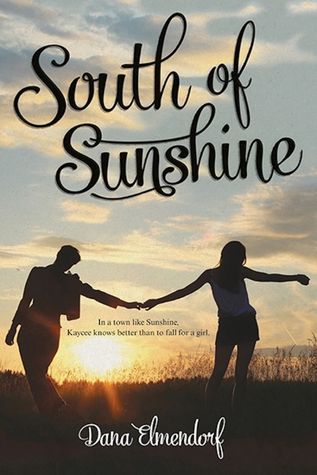 What is Kaycee willing to risk for the sake of love?
And what will she risk for acceptance?

In Sunshine, Tennessee, the main event in town is Friday night football, the biggest party of the year is held in a field filled with pickup trucks, and church attendance is mandatory. For Kaycee Jean McCoy, life in Sunshine means dating guys she has no interest in, saying only "yes, ma'am" when the local bigots gossip at her mom's cosmetics salon, and avoiding certain girls at all costs. Girls like Bren Dawson.

Unlike Kaycee, Bren doesn't really conceal who she is. But as the cool, worldly new girl, nobody at school seems to give her any trouble. Maybe there's no harm if Kaycee gets closer to her too, as long as she can keep that part of her life a secret, especially from her family and her best friend. But the more serious things get with Bren, the harder it is to hide from everyone else. Kaycee knows Sunshine has a darker side for people like her, and she's risking everything for the chance to truly be herself.
My review for South of Sunshine is here.
Powerful, darkly funny and heart-breaking, Shtum is a story about fathers and sons, autism, and dysfunctional relationships.

Ben Jewell has hit breaking point. His ten-year-old son Jonah has severe autism and Ben and his wife, Emma, are struggling to cope.

When Ben and Emma fake a separation - a strategic decision to further Jonah's case in an upcoming tribunal - Ben and Jonah move in with Georg, Ben's elderly father. In a small house in North London, three generations of men - one who can't talk; two who won't - are thrown together.
A perfect life … until she discovered it wasn't her own.

A tragic family event reveals devastating news that rips apart Bella's comfortable existence. Embarking on a personal journey to uncover the truth, she faces a series of traumatic discoveries that take her to the ruggedly beautiful Cornish coast, where hidden truths, past betrayals and a 25-year-old mystery threaten not just her identity, but also her life.

Chilling, complex and profoundly moving, In Her Wake is a gripping psychological thriller that questions the nature of family – and reminds us that sometimes the most shocking crimes are committed closest to home.
Stacking the Shelves...
This week I have received two books. One is a book I have won on twitter, Walk the edge, and one through NetGalley, Elementals book 2, The Blood of Hydra.
Razor knows his family is haunted by secrets of the past…
High school senior Thomas "Razor" Turner knows his family has a dark history as part of the Reign of Terror motorcycle club, especially when it comes to the secrecy surrounding his mother's death.
Razor knows his family is haunted by secrets of the past…
High school senior Thomas "Razor" Turner knows his family has a dark history as part of the Reign of Terror motorcycle club, especially when it comes to the secrecy surrounding his mother's death. When Razor starts to dig deeper into his mum's case he turns to the unlikeliest source for help: classmate Breanna Miller, the shy, smart girl he's never looked twice at. But the more time they spend together, the more they realise they actually have in common, and how attracted to each other they really are. When secrets from the past are revealed can their newfound feelings survive?
A demigod who can kill with a touch. It's an ability that must be kept secret from everyone, even from those trusted most.

Finding out that her new school had her in a special homeroom for witches was strange enough, but now Nicole must face the realization that she has the rare power to kill with just a touch. It's a secret she needs to keep not only from the Head Elders, but from the super-sexy witch Blake, who she's had undeniable chemistry with even before he broke up with his long-term girlfriend, the vengeful witch Danielle.

Now Nicole and the four others gifted with powers over the elements, including Blake and Danielle, must stop a series of monsters that they previously believed to be dead from rising once again and destroying the mortal world. Three magical items are needed, including the blood of the slain hydra – ingredients that they must journey to the dangerous, mystical islands in Greece to retrieve.

The monsters they face on this journey will be more threatening than anything they've encountered yet. But with the fate of the world on their shoulders, it's up to the Elementals to return home victorious. Will they find the ingredients they need? Can Nicole and her friends pull off this mission while the tension between her, Blake, and Danielle threatens to ruin everything? And how long will it be until Nicole is forced to use her ability to kill in front of everyone, revealing the true darkness of her powers?

Find out in The Blood of the Hydra, and join the Elementals on their next journey in their quest to save the world – or die trying.