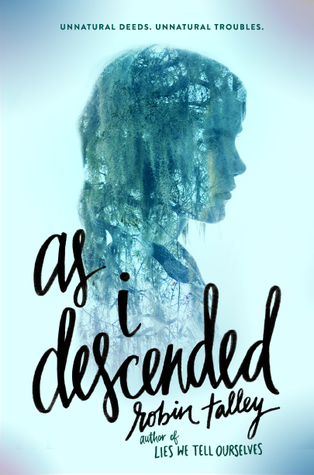 Maria Lyon and Lily Boiten are their school's ultimate power couple—even if no one knows it but them.

Only one thing stands between them and their perfect future: campus superstar Delilah Dufrey.

Golden child Delilah is a legend at the exclusive Acheron Academy, and the presumptive winner of the distinguished Cawdor Kingsley Prize. She runs the school, and if she chose, she could blow up Maria and Lily's whole world with a pointed look, or a carefully placed word.

But what Delilah doesn't know is that Lily and Maria are willing to do anything—absolutely anything—to make their dreams come true. And the first step is unseating Delilah for the Kingsley Prize. The full scholarship, awarded to Maria, will lock in her attendance at Stanford―and four more years in a shared dorm room with Lily.

Maria and Lily will stop at nothing to ensure their victory—including harnessing the dark power long rumored to be present on the former plantation that houses their school.

But when feuds turn to fatalities, and madness begins to blur the distinction between what's real and what is imagined, the girls must decide where they draw the line.

From acclaimed author Robin Talley comes a Shakespeare-inspired story of revenge and redemption, where fair is foul, and foul is fair.
Judge me if you like but I have never really been into Shakespeare and I don't know much about Macbeth so this is not why I wanted to read this book. One was because my friend has read it and really enjoyed it and two because I really liked the sound of the blurb as well as the look of the cover. So I will not be comparing it to the story on which it is loosely based.
This is the Story of Maria, Lily, Brandon, Mateo and Delilah. They all go to the same boarding school and the story begins with Maria, Lily and Brandon using a Quji board, during which strange things happen. But things have always been a little strange at this school. Many scary stories surround the school and its lake. When Lily and Maria decide to go and get what they want themselves no matter at what cost, things turn nasty. The dark powers seem to be helping them, but will they always be on their side? When people start to have accidents things get even worse. Not everyone believes them to be accidents. But how can they stop what has already began?
I was hooked from the start. This was exciting and very spooky. While at first I struggled to keep up with the changes of the POV, I soon realised how much it adds to the actual story. It gave us the chance to see how everyone handled the situation in a completely different way. How everyones fear takes hold at a different time. It made for some interesting and very fast paced reading, I couldn't turn the pages fast enough.
I really loved the characters in this, Maria and Lily who just couldn't be more different. While Maria takes life as it is, its Lily who is the driving force, the one who wants to go out there and get what she wants. But while they are both a fantastic couple, nobody else knows about their feelings.
I seriously enjoyed reading this, it was well written and I feel that I have connected with all the characters.
Chilling, atmospheric and utterly unmissable.
Thank you to Young Adult HQ for my copy.