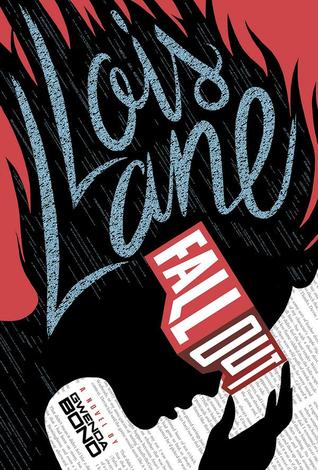 Lois Lane is starting a new life in Metropolis. An Army brat, Lois has lived all over—and seen all kinds of things. (Some of them defy explanation, like the near-disaster she witnessed in Kansas in the middle of one night.) But now her family is putting down roots in the big city, and Lois is determined to fit in. Stay quiet. Fly straight. As soon as she steps into her new high school, though, she can see it won't be that easy. A group known as the Warheads is making life miserable for another girl at school. They're messing with her mind, somehow, via the high-tech immersive videogame they all play. Not cool. Armed with her wit and her new snazzy job as a reporter, Lois has her sights set on solving this mystery. But sometimes it's all a bit much. Thank goodness for her maybe-more-than-a friend, a guy she knows only by his screenname, SmallvilleGuy.
I have been a little unlucky with my choices of books lately, so I was worried about picking this one up. I have won it, for review, on twitter from @mazimumpopbooks and @maximumpop and I had to get onto it as it was due my review in a short while. Well let me tell you, I am so glad I won this. At a time where I have lost a little bit of faith in my own reading, this has really perked me up.
Growing up around superman really, weather it was the movies or the original series or even the more recent one Smallville, I have always been familiar with the character of Louis Lane. Don't get me wrong I wasn't a huge fan or anything, but for many years you couldn't really miss superman. So I have expected something very similar. But what I got is something rather different.
Louis Lane moves about a lot because her dad is in the military. She finds herself in some kind of trouble in most schools, while her heart is always in the right place her ideas are always a little risky. On her first day at her new school in Metropolis Louis finds herself questioning her new school principle and lands herself a little job. Its a project, giving young journalists a chance to work for a paper. After witnessing a really strange group of kids bullying a girl and the principal not doing anything about it, Louis things she has just the right story to report.
However the group that calls themselves Warheads aren't your average group of bullies. Not only do they bully this girl in real life but also in a very high tech videogame. But that's not even the strangest thing, they all seem to know what the others think, moving in sync, finishing each others sentences and basically looking alike. What else will Louis discover?
This book isn't just about bullying but also about making new friends, about finding something you love and are good at. Its about uncovering the truth no matter the cost.
It is lovely to get to know a very young Louis Lane, to discover how her love for journalism started. I really enjoyed her being the hero and not being in superman's shadow for a change. That was a great twist and I think it made for a great main character. However I also loved how the author has managed to sneak superman in there.
All in all this has been a great read, it flowed nice and easy and I found myself picking this book up as much as I could. Weather you are familiar with Louis Lane or not I am sure you will enjoy this, especially if you like YA anyway. I must admit I haven't heard about this book until I have won it, so I really hope it will get a little more hype and sells lots. Most of all because I really want to read the next one.
Thank you @maximumpopbooks and @maximumpop for this amazing prize in exchange for my honest opinion.