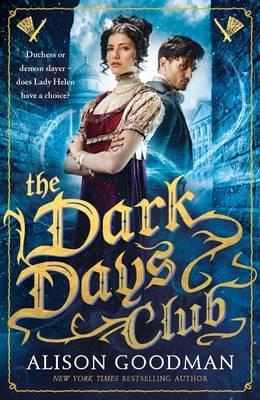 London, April 1812. Eighteen-year-old Lady Helen Wrexhall is on the eve of her debut presentation to the Queen. Her life should be about gowns and dancing, and securing a suitable marriage. Instead, when one of her family's housemaids goes missing, Lady Helen is drawn to the shadows of Regency London.

There, she finds William, the Earl of Carlston. He has noticed the disappearance, too, and is one of the few who can stop the perpetrators: a cabal of powerful demons that has infiltrated every level of society. But Lady Helen's curiosity is the last thing Carlston wants—especially when he sees the searching intelligence behind her fluttering fan. Should Helen trust a man whose reputation is almost as black as his lingering eyes? And will her headstrong sense of justice lead them both into a death trap?

In The Dark Days Club
, internationally best-selling author Alison Goodman introduces readers to a heroine who is just as remarkable as Eona—and yet again reinvents an establlished literary genre, making it her own.
I have heard so much about his book already and I have seen the cover for it all over the internet, so when NetGalley mad a sneak peak available to download I just had to get it. I had to see if it would explain why its getting all this attention already.
And I wasn't disappointed, I have only read the first two chapters and I am already hooked. Good job I have also purchased the book now. Helen lives in London in 1812, she is now of age to be married and is just awaiting her presentation. She is the daughter of Lady Catherine who has betrayed Britain and who has died alongside her husband. Helen now lives with her Aunt and Uncle who desperately want her to find a husband. But you can already tell that Helen wants a lot more from live. Not just that but you can slowly feel the paranormal sneaking in.
When one of her friends does something unthinkable and out of character and then a maid disappears I am already hooked and want to know what is going on.
Well done on creating a book that grips me from the start. I know cant wait to pick my book up and read the rest.
Lets not forget to mention the cover of this book. Its an absolute beauty, well beauties, because I actually like both, the uk and the usa cover very much. Its one of those books I would buy without even looking at the blurb.
Thank you to Net Galley for my little sneak peak.
The Dark Days Club is out now.