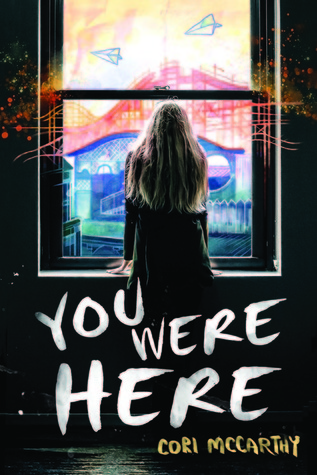 .
Grief turned Jaycee into a daredevil, but can she dare to deal with her past?

On the anniversary of her daredevil brother's death, Jaycee attempts to break into Jake's favorite hideout—the petrifying ruins of an insane asylum. Joined by four classmates, each with their own brand of dysfunction, Jaycee discovers a map detailing her brother's exploration and the unfinished dares he left behind.

As a tribute to Jake, Jaycee vows to complete the dares, no matter how terrifying or dangerous. What she doesn't bargain on is her eccentric band of friends who challenge her to do the unthinkable: reveal the parts of herself that she buried with her brother.
Holy cow!! Now this is how you write young adult books. It had all the ingredients to make this book perfect.
Jaycee has lost her brother some time back in a freak accident. A brother that was always taking risks and doing crazy stuff. Now Jaycee is almost stepping into her brothers steps. While she is doing something reckless, on the anniversary of her brothers death, she is stopped by her former best friend Nat, her boyfriend Zach and their friend Bishop. They end up going into this old hospital together, looking for her brothers mark. But they are not alone, Mik is there too. Her brothers former friend always meets Joycee on the anniversary of his death. They have one intense night in the hospital and it starts something special there, without any of them knowing just yet.
After finding her brothers journal the group wants to go and visit more places that he has visited in the past. Every adventure is as intense as the last one. Slowly truths come out... why are Nat and Jaycee not friends anymore? Why have Mik and Jake stopped being friends? What other secrets will come out?
Everyone is connected in a way, which is the best part in this book for me. Seeing it all come together and connecting people that already have something in common.
This book is rather intense. Its about friendship, its about loss and about grief. But its also about love. And not just any love, but your first love. The one that kind of feels impossible but is more intense then anything you have experienced before.
I have absolutely adored this book. The characters are amazing and I loved them all. The love blossoming here is so sweet and intense I couldn't get enough. This book is heart breaking and so so real. It was an intense, emotional rollercoaster. I could not put this down and I almost didn't want it to end at all. Well done on getting it just right. Love love love it!
Thank you to NetGalley and Sourcebooks Fire for my copy in exchange for my honest opinion.
You Were Here will be published 1st March 2016.