WWW Wednesday is a meme hosted by Sam at
Taking on a World of Words
. It's open for anyone to join in and is a great way to share what you've been reading! All you have to do is answer three questions and share a link to your blog in the comments section of Sam's blog.
The three Ws are:
What are you currently reading?
What did you recently finish reading?
What do you think you'll read next?
I am currently reading...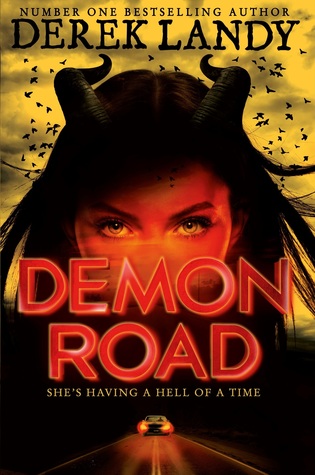 Full of Landy's trademark wit, action and razor sharp dialogue, DEMON ROAD kicks off with a shocking opener and never lets up the pace in an epic road-trip across the supernatural landscape of America. Killer cars, vampires, undead serial killers: they're all here. And the demons? Well, that's where Amber comes in...Sixteen years old, smart and spirited, she's just a normal American teenager until the lies are torn away and the demons reveal themselves.

Forced to go on the run, she hurtles from one threat to another, revealing a tapestry of terror woven into the very fabric of her life. Her only chance rests with her fellow travellers, who are not at all what they appear to be…
I have recently finished...
Liv Bloom's life is even more complicated than that of your average fourteen-year-old: her father walked out on the family when she was young, her mother is in a recovery centre for alcoholics, and her older sister is struggling to step into Mum's shoes. The only person she can turn to is her best friend Sarah, who gets out of scrapes at school and is a constant source of advice and companionship. One day Liv discovers a book of recipes written in her mum's handwriting, which sets her off on a journey towards self-discovery and reconciliation – but a theft, a love rivalry and a school bully are just some of the many obstacles on the way.

Structured around real cake recipes, Caramel Hearts is a coming-of-age novel about love, disappointment and hope, and discovering the true value of friends and family, no matter how dysfunctional they are.
I plan on reading next...
Destined to destroy empires, Mia Covere is only ten years old when she is given her first lesson in death.

Six years later, the child raised in shadows takes her first steps towards keeping the promise she made on the day that she lost everything.

But the chance to strike against such powerful enemies will be fleeting, so if she is to have her revenge, Mia must become a weapon without equal. She must prove herself against the deadliest of friends and enemies, and survive the tutelage of murderers, liars and demons at the heart of a murder cult.

The Red Church is no Hogwarts, but Mia is no ordinary student.

The shadows love her. And they drink her fear.