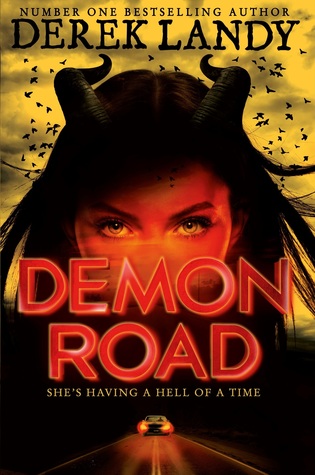 Full of Landy's trademark wit, action and razor sharp dialogue, DEMON ROAD kicks off with a shocking opener and never lets up the pace in an epic road-trip across the supernatural landscape of America. Killer cars, vampires, undead serial killers: they're all here. And the demons? Well, that's where Amber comes in...Sixteen years old, smart and spirited, she's just a normal American teenager until the lies are torn away and the demons reveal themselves.

Forced to go on the run, she hurtles from one threat to another, revealing a tapestry of terror woven into the very fabric of her life. Her only chance rests with her fellow travellers, who are not at all what they appear to be…
I have had this book on my kindle for ages, which I am really sorry about. It was one of the very fist books I have received on NetGalley and then I have gone a bit crazy on there and it was left forgotten. I have finally managed to pick it up but unfortunately its bad news, I couldn't finish it. Normally I wouldn't even write a review for a book I couldn't finish, but I have read half of it, really pushing myself but I got to a point where I just had to give it up.
The story alone was a bit of an odd one, obviously it would be, its about demons, but demons that eat their children.... wow. But that didn't stop me reading, I was hoping it can only get better. And I suppose for a while it did and I almost got into it. Then a character appeared that was just really grinding on me. He just kept going on and on and on! The more I read the more I disliked him and it really spoiled the book for me. I wanted to like it, very much so. Its my sort of genre and normally it never fails to deliver.
This book just wasn't for me and I feel awful when I don't like a book, even more so because I have made the publisher wait so long for this review. I am really sorry for that.

Thank you to NetGalley and the publisher for my copy of Demon Road.