I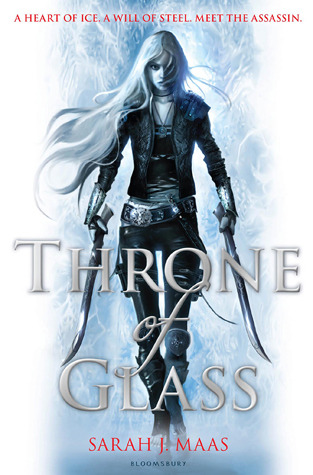 Meet Celaena Sardothien.
Beautiful. Deadly.
Destined for greatness.

In the dark, filthy salt mines of Endovier, an eighteen-year-old girl is serving a life sentence. She is a trained assassin, the best of her kind, but she made a fatal mistake: she got caught.

Young Captain Westfall offers her a deal: her freedom in return for one huge sacrifice. Celaena must represent the prince in a to-the-death tournament—fighting the most gifted thieves and assassins in the land. Live or die, Celaena will be free. Win or lose, she is about to discover her true destiny. But will her assassin's heart be melted?
So I have clearly done this all very very wrong. I have read A Court Of Thorns and Roses and A Court of Mist and Fury before I have started this one and of course I can't help but compare the two. And lets be honest this one isn't as good as the other two! BUT I still liked it, don't get me wrong, I just wish I have had read it first, so i could have grown with the books, instead of going back to the beginning.
This is the story of Celaena, an Assassin that has been caught and has spent a year in extremely tough conditions in the salt mines of Endovier. But one day she is given the chance to leave and take part in a competition to become the kings champion, offered by the Dorian the crown prince himself. She accepts the offer and travels to the glass palace. There she will have to go through several stages of eliminations, where she will have to win against other criminals. Celeana finds herself enjoying the lavish life at court in a strange way. But its her friendship with Captain Westfall and the prince's attention that is really interesting. Her competitors start turning up dead, what else is going on at court?
There is many things I rather enjoyed about this book. The touch of magic for example, Celeana's friendship with Captain Westfall too. But there was also some things that annoyed me, like the fact that Celeana is meant to be the most dangerous assassin in the country and all I got is a girl that liked her fancy dresses and never did anything that would suggest she is a murderer. Quite the opposite, she was rather good and soft at times. Which is totally not what I expected at all and I find that in a way the book is being slightly miss sold.
But I still had good fun reading this and it certainly made me want to continue with this series. I have big hopes for the second book because I know how much Maas has raised the bar from A Court of Thorns and Roses to A Court of Mist and Fury. So if that's anything to go by...
I always feel rather strange when I read a book and don't love it as much as everyone else. But I'd rather be honest then just go and follow the masses.
But once again, I didn't hate it, it's not the best one I have every read but it wasn't all bad.
All in all if you love this genre then I believe there is a very high chance you will love this one too. And I will pick up the next one hopefully in August and let you know what I think of this one.