Weekly Wrap Up...
I really wanted to finish 3 books this week, however I am about 80 pages short of finishing my second one, so its my usual 2 this week. I have a really busy week next week too, including 2 nights in Ireland which I am really excited about so wont be managing much reading.
The two books I have finished this week are Sing by Vivi Greene and Under Rose-Tainted Skies. Sing was so much fun and I really loooooved Under Rose-Tainted skies, my reviews will follow soon.
America's most famous pop star flees the spotlight to recover from her latest break-up in Maine—only to fall for a local boy and be faced with an impossible choice at the end of the summer: her new guy, or her music.

Multiplatinum pop icon Lily Ross's biggest hits and biggest heartbreaks (because they are one and the same):


1. AGONY. (That feeling when her ex ripped her heart out of her chest and she never saw it coming.)
2. GHOSTS. (Because even famous people are ghosted by guys sometimes. And it sucks just as much.)
3. ONCE BITTEN. (As in: twice shy. Also, she's never dating an actor or a musician ever again.)


But this summer's going to be different. After getting her heart shattered, Lily is taking herself out of the spotlight and heading to a small island in middle-of-nowhere Maine with her closest friends. She has three months until her fall tour starts-three months to focus on herself, her music, her new album. Anything but guys.


That is . . . until Lily meets sweet, down-to-earth local Noel Bradley, who is so different from anyone she's ever dated. Suddenly, Lily's "summer of me" takes an unexpected turn, and she finds herself falling deeper and harder than ever before. But Noel isn't interested in the limelight. She loves Noel-but she loves her fans, too. And come August, she may be forced to choose.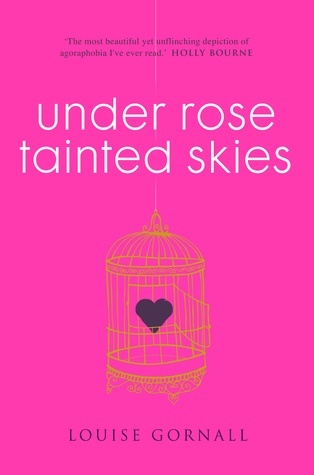 Agoraphobia confines Norah to the house she shares with her mother.

For her, the outside is sky glimpsed through glass, or a gauntlet to run between home and car. But a chance encounter on the doorstep changes everything: Luke, her new neighbour. Norah is determined to be the girl she thinks Luke deserves: a 'normal' girl, her skies unfiltered by the lens of mental illness. Instead, her love and bravery opens a window to unexpected truths …

An important and uplifting debut from a British author, which tackles mental health issues such as agoraphobia and OCD.
Stacking the Shelves...
I have added 5 books to my shelves this week. The Trouble with Henry and Zoe has been send to me by Simon & Schuster, thank you very much, I am rather excited for this one. Am currently very much in the mood for romantic book, so this came at the perfect time. Another beautiful book that came through my letterbox this week is Always Emily which looks amazing, not only that but my little one is called Emily so I love it even more. Thank you to Abrams and Chronicles Books for this amazing book post. And the last 3 are the Grisha trilogy, which I have been eying up for some time. When my friend told me they are all only 99p each on kindle I raced to download them. Might indulge in those on my holiday.
Henry and Zoe have more in common than they realise. For a start, they both have pasts they'd rather leave behind.

After jilting his childhood sweetheart on the eve of their wedding in the small town where they both grew up, Henry runs away to London, planning to reinvent himself and start afresh.

Zoe has her own healing to do and so she plans to leave London, travel the world, and figure out just what it is she wants out of life. She doesn't know where she's going, but she is determined to go there alone.

If Henry and Zoe had met one year ago, perhaps things could have worked out differently. But that's not the way it works; they meet seven months after their worlds have been turned upside down. And four months before Zoe is due to climb on a plane...
Emily and Charlotte Brontë are about as opposite as two sisters can be. Charlotte is practical and cautious; Emily is headstrong and imaginative. But they do have one thing in common: a love of writing. This shared passion will lead them to be two of the first published female novelists and authors of several enduring works of classic literature. But they're not there yet. First, they have to figure out if there is a connection between a string of local burglaries, rumors that a neighbor's death may not have been accidental, and the appearance on the moors of a mysterious and handsome stranger. The girls have a lot of knots to untangle—before someone else gets killed.
Surrounded by enemies, the once-great nation of Ravka has been torn in two by the Shadow Fold, a swath of near impenetrable darkness crawling with monsters who feast on human flesh. Now its fate may rest on the shoulders of one lonely refugee.

Alina Starkov has never been good at anything. But when her regiment is attacked on the Fold and her best friend is brutally injured, Alina reveals a dormant power that saves his life—a power that could be the key to setting her war-ravaged country free. Wrenched from everything she knows, Alina is whisked away to the royal court to be trained as a member of the Grisha, the magical elite led by the mysterious Darkling.

Yet nothing in this lavish world is what it seems. With darkness looming and an entire kingdom depending on her untamed power, Alina will have to confront the secrets of the Grisha . . . and the secrets of her heart.