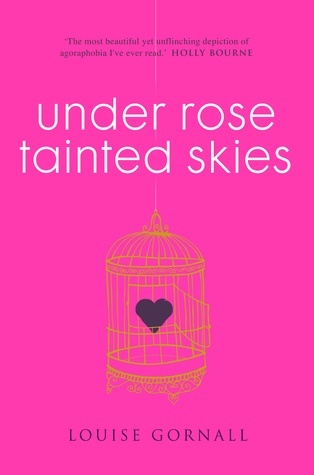 Agoraphobia confines Norah to the house she shares with her mother.

For her, the outside is sky glimpsed through glass, or a gauntlet to run between home and car. But a chance encounter on the doorstep changes everything: Luke, her new neighbour. Norah is determined to be the girl she thinks Luke deserves: a 'normal' girl, her skies unfiltered by the lens of mental illness. Instead, her love and bravery opens a window to unexpected truths …

An important and uplifting debut from a British author, which tackles mental health issues such as agoraphobia and OCD.
Let me start by telling you that this has been the best book that I have read in some time. I have loved every second of it. This is the Story of Norah who is trapped in her house by her fears and OCD. She never leaves the house unless its totally necessary and even that turns into her absolute nightmare. When her mother has to go away for a little while Norah meets her neighbour right at her door due to a rather strange chance encounter. She is fascinated by the new boy next door straight away, who also appears to keep finding reasons to come back, pushing her fears beyond her limits. Soon Norah finds herself questioning her own actions and changing routines she never thought would be possible to change one bit. Not only that, but for the first time ever Norah wishes she could be out there having fun with Luke and everyone else...
This book has been absolutely outstanding! I can't tell you how much I have enjoyed it. It was eye opening and charming and in some parts even funny. It has completely warmed my heart. Norah is probably one of the most interesting characters I have had the pleasure of reading about. Complicated but completely good and likeable. Until this book I haven't known anything about Agoraphobia and I think this book has told me a lot, in a way that was never uncomfortable or judgemental. I feel like I completely understood how Norah was feeling at all times.
Luke is just dreamy, i mean come on who doesn't love a boy next door that treats you right and doesn't run away when you completely freak out on him. He is the perfect bookboyfriend!
If you don't know which book to pick up next, make it this one and i promise you, you will not regret it. I couldn't turn the pages fast enough and there is literally nothing i could fault about it. It was perfection from the very fist page to the very last one.
Full of heart, totally eye opening and utterly charming, a must read!
Thank you to Chicken House for my copy of this incredible pink book in exchange for my honest and fair review.
Under Rose Tainted Skies is out NOW and you need it in your life!