Weekly Wrap Up...
So I have spend the last 2 days at the YALC in London and I literally had the best time ever. Obviously a dragged lots of new books back home but i wont include those into my normal Stacking the Shelves but will make a separate post about those. I still managed a 3 book week. YAY!!! About time, it did help that i have had a 3.5 hours journey to London and the same on way back. Lots of undisturbed reading. This week I have finished Always Emily, Lament for the Fallen and The Creeper Man. All very very different. I haven't yet written my reviews but those will follow very soon.
Emily and Charlotte Brontë are about as opposite as two sisters can be. Charlotte is practical and cautious; Emily is headstrong and imaginative. But they do have one thing in common: a love of writing. This shared passion will lead them to be two of the first published female novelists and authors of several enduring works of classic literature. But they're not there yet. First, they have to figure out if there is a connection between a string of local burglaries, rumors that a neighbor's death may not have been accidental, and the appearance on the moors of a mysterious and handsome stranger. The girls have a lot of knots to untangle—before someone else gets killed.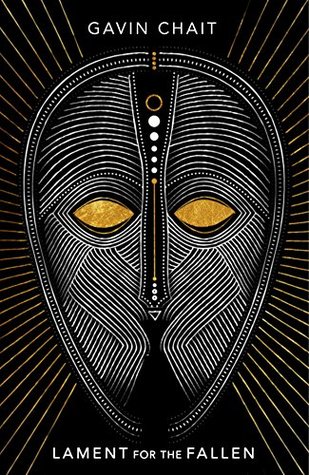 'Father, tell me a story?'
asks Isaiah, moments before a strange craft falls from the sky and smashes into the jungle near his isolated West African community. Inside the ruined vessel the villagers find the shattered body of a man. His name is Samara and he is a man unlike any the villagers have seen before - a man who is perhaps something more than human.

With his city home of Achenia hiding in the rubble left by a devastating war, Samara has fallen 35,000 km to earth in order to escape the automated hell of an orbiting prison called Tartarus. As he struggles to heal himself, he helps transform the lives of those who rescued him but in so doing attracts the attention of the brutal warlord who rules over this benighted, ravaged post-21st century land. He is not a man to be crossed, and now he threatens the very existence of the villagers themselves and the one, slim chance Samara has of finding his way home and to the woman - and the world - he loves.

And all the while - in the darkness above - waits the simmering fury that lies at the heart of Tartarus .
A spine-chilling psychological thriller from stunning YA talent and author of THE DEAD HOUSE, Dawn Kurtagich.

When Silla and her little sister, Nori, escape London and their abusive father, Aunt Cath's country house feels like a safe haven. Leaving the smog and fear behind, the girls have the love and freedom they never had in their violent home. But slowly, ever so slowly, things begin to unravel.

Aunt Cath locks herself in the attic and spends day and night pacing; every day the surrounding forest inches slowly towards the house; a mysterious boy appears from the enclosing wood offering friendship, and Nori claims that a man watches them from the dark forest. A man with no eyes who creeps ever closer. . .
Its been a really really good week for my shelves and that isn't even including my YALC haul. Whooops! But i love books and you can never ever have enough. I have had the most amazing box delivered, just look at aaaaall those goodies...
This is all from an amazing twitter competition by @ScribeUKbooks that i have won the week before and omg I cant even mention them all. But thank you so so much fot this, my daughter and I will be sharing these between us.
I have then received The Unseeing from my best friend Daniela who ended up with two copies of this, thank you lovely! I have been super lucky to receive Songs About A Girl not only on NetGalley but also from Laura at Hachette Children and I can not wait for this one. To top it off I have a competition right here on my blog, where you can win a signed copy and some amazing Miss Sporty Make-Up. But that's not all, I have had the great honour to meet the author Chris Russell and Laura too at YALC which was amazing. Both are super lovely. Thank you for everything.
The lovely Georgia has send me a copy of Children of Icarus, thank you so much! I absolutely looooove that cover and its Greek Mythology which is something i would love to see more off in books. Really looking forward to this.
Last but not least Moon Chosen! I am a huge fan of P.C. Cast, just love her stuff! So when i saw this on netgalley I couldn't resist. So happy this is a new series, I have never been disappointed by Cast. Thank you so much NetGalley.
Set in London in 1837, Anna Mazzola's THE UNSEEING is the story of Sarah Gale, a seamstress and mother, sentenced to hang for her role in the murder of Hannah Brown on the eve of her wedding. Perfect for any reader of Sarah Waters or Antonia Hodgson.
'With this intricately woven tale of trust, self-trust and deceit, Anna Mazzola brings a gritty realism to Victorian London. Beautifully written and cleverly plotted, this is a stunning debut, ranked amongst the best' MANDA SCOTT

After Sarah petitions for mercy, Edmund Fleetwood is appointed to investigate and consider whether justice has been done. Idealistic, but struggling with his own demons, Edmund is determined to seek out the truth. Yet Sarah refuses to help him, neither lying nor adding anything to the evidence gathered in court. Edmund knows she's hiding something, but needs to discover just why she's maintaining her silence. For how can it be that someone would willingly go to their own death?
Charlie Bloom never wanted to be 'with the band'. She's happiest out of the spotlight, behind her camera, unseen and unnoticed. But when she's asked to take backstage photos for hot new boy band Fire&Lights, she can't pass up the chance.

Catapulted into a world of paparazzi and backstage bickering, Charlie soon becomes caught between gorgeous but damaged frontman, Gabriel West, and his boy-next-door bandmate Olly Samson. Then, as the boys' rivalry threatens to tear the band apart, Charlie stumbles upon a mind-blowing secret, hidden in the lyrics of their songs...
It is Clara who is desperate to enter the labyrinth and it is Clara who is bright, strong, and fearless enough to take on any challenge. It is no surprise when she is chosen. But so is the girl who has always lived in her shadow. Together they enter. Within minutes, they are torn apart forever. Now the girl who has never left the city walls must fight to survive in a living nightmare, where one false turn with who to trust means a certain dead end."
#1 New York Times bestselling author, P.C. Cast, brings us a new epic fantasy set in a world where humans, their animal allies, and the earth itself has been drastically changed. A world filled with beauty and danger and cruelty…

Mari is an Earth Walker, heir to the unique healing powers of her Clan; but she has cast her duties aside, until she is chosen by a special animal ally, altering her destiny forever. When a deadly attack tears her world apart, Mari reveals the strength of her powers and the forbidden secret of her dual nature as she embarks on a mission to save her people. It is not until Nik, the son of the leader from a rival, dominating clan strays across her path, that Mari experiences something she has never felt before…

Now, darkness is coming, and with it, a force, more terrible and destructive than the world has ever seen, leaving Mari to cast the shadows from the earth. By forming a tumultuous alliance with Nik, she must make herself ready. Ready to save her people. Ready to save herself and Nik. Ready to embrace her true destiny…and obliterate the forces that threaten to destroy them all