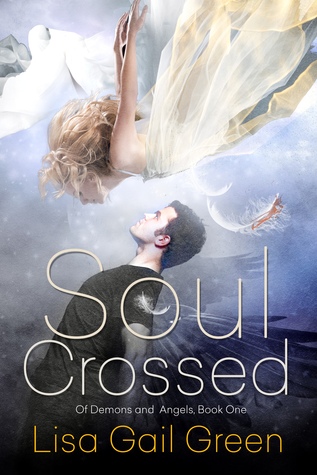 One Demon.

One Angel.

One Soul.

Josh lived a reckless, selfish life, so upon his death, escaping the eternal torments of Hell by assuming the role of a powerful, soul-corrupting demon is an easy choice. His first soul assignment doesn't seem too hard: the mortal Camden is already obsessed with weapons, pain, and torture. If only Josh wasn't distracted by Cam's beautiful friend, Grace.

Grace never expected to die violently at age sixteen, but now she's an Angel, responsible for saving a soul. She can already see past Camden's earthly flaws, so the job should be be easy. If only that handsome, playboy Josh would stop getting in the way.

It's forbidden for an Angel to be with a Demon, so if Josh and Grace stop resisting each other, the results would be disastrous.

And only one can claim Cam's soul.
OMG!!! Look at that cover!! It is stunning, one of the prettiest ones I have seen this year. And that is exactly why I needed to have this book of Netgalley. Forever having a soft spot for beautiful covers pays of sometimes and goes wrong sometimes too. This time its been a bit of both really. While i still loved the concept of this book, I just feel like it could have been so much more.
This is the story of Josh and Grace, both have died and while Grace ends up in heaven with the chance to become an Angel, Josh ends up in Hell where Lucifer has a job for him. Unbeknown to them both they both have to 'work' with the same person. Grace is charged with saving Camden's soul and Josh with pushing him over the edge. Working agains each other they will soon discover their attraction towards each other. But how will Camden choose and what will happen when Josh and Grace discover the truth about each other.
The plot sounds amazing and personally i love the idea so much. But it fell a bit flat in places. I seemed to have flown through this book because it was such an easy and short read. It wasn't deep enough to really connect with the characters. But that wasn't my only issue, there was things I didn't like about Josh, in a way I can only hope that young girls don't fall for boys like this. No boy should treat a girl like that. Boys like him just make me angry.
I didn't completely dislike this book, I was on the way to Ireland reading it at the airport and on the plane and by the time i returned home it was finished. It fitted right into my travels and I managed to read it even with many distractions. Its one of those books that doesn't need your full attention and it was nice to read after some heavy books in the past.
It comes to a rather satisfying end with the promise of more books to come. I strongly believe that it is aimed at much younger audience. While I am in general to old for YA fantasy, it has never stopped me from loving it, but this one was just that bit to young even for me?
Thank you to NetGalley and the publisher for providing me with a copy of Soul Crossed.