WWW Wednesday is a meme hosted by Sam at
Taking on a World of Words
. It's open for anyone to join in and is a great way to share what you've been reading! All you have to do is answer three questions and share a link to your blog in the comments section of Sam's blog.
What are you currently reading?
What did you recently finish reading?
What do you think you'll read next?
I am currently reading...
The lives of the Barretts, a suburban New England family, are torn apart when fourteen-year-old Marjorie begins to display signs of acute schizophrenia. To her parents despair, the doctors are unable to halt Marjorie's descent into madness. As their stable home devolves into a house of horrors, they reluctantly turn to a local Catholic priest for help, and soon find themselves the unwitting stars of The Possession, a hit reality television show. Fifteen years later, a bestselling writer interviews Marjorie's younger sister, Merry. As she recalls the terrifying events that took place when she was just eight years old, long-buried secrets and painful memories begin to surface and a mind-bending tale of psychological horror is unleashed.
I have recently finished...
The capital has fallen.

The Darkling rules Ravka from his shadow throne.

Now the nation's fate rests with a broken Sun Summoner, a disgraced tracker, and the shattered remnants of a once-great magical army.

Deep in an ancient network of tunnels and caverns, a weakened Alina must submit to the dubious protection of the Apparat and the zealots who worship her as a Saint. Yet her plans lie elsewhere, with the hunt for the elusive firebird and the hope that an outlaw prince still survives.

Alina will have to forge new alliances and put aside old rivalries as she and Mal race to find the last of Morozova's amplifiers. But as she begins to unravel the Darkling's secrets, she reveals a past that will forever alter her understanding of the bond they share and the power she wields. The firebird is the one thing that stands between Ravka and destruction—and claiming it could cost Alina the very future she's fighting for.
I plan on reading next...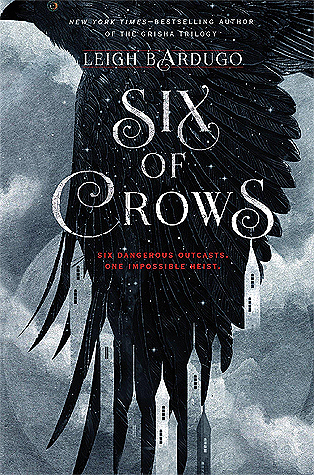 Ketterdam: a bustling hub of international trade where anything can be had for the right price—and no one knows that better than criminal prodigy Kaz Brekker. Kaz is offered a chance at a deadly heist that could make him rich beyond his wildest dreams. But he can't pull it off alone...

A convict with a thirst for revenge.

A sharpshooter who can't walk away from a wager.

A runaway with a privileged past.

A spy known as the Wraith.

A Heartrender using her magic to survive the slums.

A thief with a gift for unlikely escapes.

Kaz's crew are the only ones who might stand between the world and destruction—if they don't kill each other first.