WWW Wednesday is a meme hosted by Sam at
Taking on a World of Words
. It's open for anyone to join in and is a great way to share what you've been reading! All you have to do is answer three questions and share a link to your blog in the comments section of Sam's blog.
What are you currently reading?
What did you recently finish reading?
What do you think you'll read next?
I am currently reading...
Everyone said the Graces were witches.

They moved through the corridors like sleek fish, ripples in their wake. Stares followed their backs and their hair.

They had friends, but they were just distractions. They were waiting for someone different.

All I had to do was show them that person was me.

Like everyone else in her town, River is obsessed with the Graces, attracted by their glamour and apparent ability to weave magic. But are they really what they seem? And are they more dangerous than they let on?

This beautifully-written thriller will grip you from its very first page.
I have recently finished...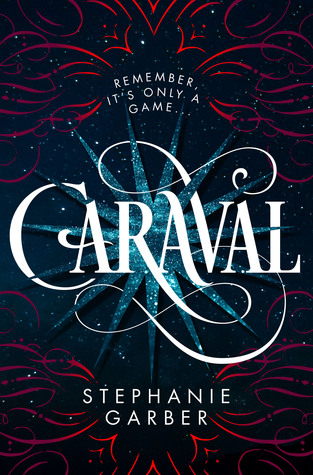 Before you enter the world of Caraval, you must remember that it's all a game . . .

Scarlett has never left the tiny island where she and her beloved sister, Tella, live with their ruthless father. Now Scarlett's father has arranged a marriage for her, and Scarlett thinks her dreams of seeing Caraval, the legendary, once-a-year performance where the audience participates in the show, are over.

Then, Scarlett's long-dreamt of invitation to Caraval finally arrives. So, Tella enlists a mysterious sailor's help to whisk Scarlett away to this year's show. But as soon as the trio arrives, Tella is kidnapped by Caraval's mastermind organizer, Legend.

Scarlett has been told that everything that happens during Caraval is only an elaborate performance. But she nonetheless soon becomes enmeshed in a game of love, heartbreak, and magic with her sister, with Legend, and with the other players in the game. And whether Caraval is real or not, she must find Tella before the five nights of the game are over, a dangerous domino effect of consequences is set off, and her sister disappears forever.
I plan on reading next...
A remarkable story about love and death from the winner of the Guardian Children's Fiction Prize

Eleven-year-old Mouse is travelling to see his grandparents on Christmas Eve with his mother and two sisters. But it's snowing, and visibility is bad, and the car goes off the road, and crashes.

Mouse is thrown from the car.

When he wakes, he's not in his world any more. He meets a sheep named Bar, who can only say Baaa, and a sarcastic horse named Nonky, who is a surprising mix of his beloved toy horse and his older sister.
So begins a quest to find a castle in a world of wonder - a world of monsters, minstrels, dangerous knights and mysterious wizards; a world of terrifying danger but also more excitement than Mouse has ever known.

But why are they looking for a castle? As the cold grows, we realise it might just have something to do with the family he's left behind; and that Mouse's quest is more important than ever.

This is a novel about love and death. It's about the power of stories to change the way we view the world - and it's about the power of a child to change their own world. Emotionally arresting but ultimately uplifting, this is a remarkable novel for our times.