Weekly Wrap Up...
I have managed to read two books this week, which wasn't easy, neither of those has been a light read. So I am rather proud of myself. The first one was And I Darken by Kiersten White, which was absolutely outstanding. You can read my review
here
. And the second book was Duskfall by Christopher Husberg, a new, fresh and original fantasy series that I have enjoyed very much. Tomorrow I will have an exclusive extract for you on my blog, which I cant wait to share with you.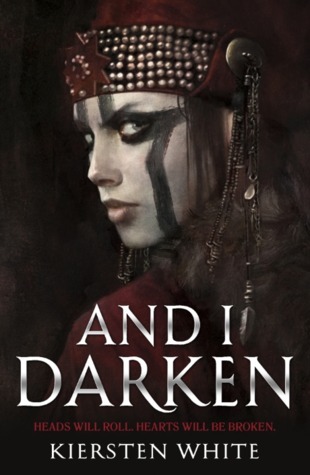 No one expects a princess to be brutal. And Lada Dragwyla likes it that way.

Ever since she and her brother were abandoned by their father to be raised in the Ottoman sultan's courts, Lada has known that ruthlessness is the key to survival. For the lineage that makes her and her brother special also makes them targets.

Lada hones her skills as a warrior as she nurtures plans to wreak revenge on the empire that holds her captive. Then she and Radu meet the sultan's son, Mehmed, and everything changes. Now Mehmed unwittingly stands between Lada and Radu as they transform from siblings to rivals, and the ties of love and loyalty that bind them together are stretched to breaking point.

The first of an epic new trilogy starring the ultimate anti-princess who does not have a gentle heart. Lada knows how to wield a sword, and she'll stop at nothing to keep herself and her brother alive.
Stuck with arrows and close to death, a man is pulled from the icy waters of the Gulf of Nahl. Winter, a seemingly quiet young fisherman's daughter, harbours a secret addiction that threatens to destroy her. A young priestess, Cinzia, must face a long journey home to protect her church from rebellion. A rebellion sparked by her sister.

Three characters on different paths will be brought together by fate on one thrilling and perilous adventure.
Stacking the Shelves...
Its been a little quiet on my shelves lately but this week I have added 4 new books. Two have been of NetGalley, The Witch's Kiss and The Otherlife. Will be starting on those as soon as I have finished my current read, Thank you to NetGalley and the publisher. 2 new books have also come through my letter box. Thank you to Chicken House for this pink beauty that is Under Rose-Tainted Skies. And thank you so much to Alma Books and the author Elizabeth Rose Murray for the adorable Caramel Hearts.
Sixteeen-year-old Meredith is fed-up with her feuding family and feeling invisible at school – not to mention the witch magic that shoots out of her fingernails when she's stressed. Then sweet, sensitive Jack comes into her life and she falls for him hard. The only problem is that he is periodically possessed by a destructive centuries-old curse. Meredith has lost her heart, but will she also lose her life? Or in true fairytale tradition, can true love's kiss save the day?
Three years ago, Ben's beloved friend and tutor Jason died in mysterious circumstances. And he begins to wonder if his old friend Hobie had something to with it...
I always get away with it when I try stuff like this. Partly it comes down to sort of assuming that I'm going to. I've got loads of confidence. And Loki got away with everything. Well, almost everything.

When troubled, quiet Ben begins at the ruthlessly competitive Cottesmore House, school to the richest, most privileged boys, he is befriended by Hobie: the wealthy class bully, product of monstrous indulgence and intense parental ambition.

Hobie is drawn to Ben because he can see the Otherlife: a violent, mythic place where gods and monsters roam. Ben has unnerving visions of Thor and Odin, and of the giant beasts that will destroy them, as well as Loki, god of mischief. Hobie is desperate to be a part of it.

Years later, Ben discovers his beloved tutor Jason is dead. And he can't help wondering if Hobie – wild, restless, dangerous Hobie, had something to do with it…

Beguiling, shocking and richly imaginative,
The Otherlife
is about the darkest impulses within us all.
Agoraphobia confines Norah to the house she shares with her mother.

For her, the outside is sky glimpsed through glass, or a gauntlet to run between home and car. But a chance encounter on the doorstep changes everything: Luke, her new neighbour. Norah is determined to be the girl she thinks Luke deserves: a 'normal' girl, her skies unfiltered by the lens of mental illness. Instead, her love and bravery opens a window to unexpected truths …

An important and uplifting debut from a British author, which tackles mental health issues such as agoraphobia and OCD.
Liv Bloom's life is even more complicated than that of your average fourteen-year-old: her father walked out on the family when she was young, her mother is in a recovery centre for alcoholics, and her older sister is struggling to step into Mum's shoes. The only person she can turn to is her best friend Sarah, who gets out of scrapes at school and is a constant source of advice and companionship. One day Liv discovers a book of recipes written in her mum's handwriting, which sets her off on a journey towards self-discovery and reconciliation – but a theft, a love rivalry and a school bully are just some of the many obstacles on the way.

Structured around real cake recipes, Caramel Hearts is a coming-of-age novel about love, disappointment and hope, and discovering the true value of friends and family, no matter how dysfunctional they are.