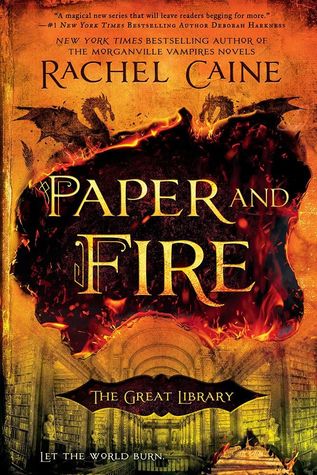 With an iron fist, The Great Library controls the knowledge of the world, ruthlessly stamping out all rebellion, forbidding the personal ownership of books in the name of the greater good.

Jess Brightwell has survived his introduction to the sinister, seductive world of the Library, but serving in its army is nothing like he envisioned. His life and the lives of those he cares for have been altered forever. His best friend is lost, and Morgan, the girl he loves, is locked away in the Iron Tower and doomed to a life apart.

Embarking on a mission to save one of their own, Jess and his band of allies make one wrong move and suddenly find themselves hunted by the Library's deadly automata and forced to flee Alexandria, all the way to London.

But Jess's home isn't safe anymore. The Welsh army is coming, London is burning, and soon, Jess must choose between his friends, his family, or the Library willing to sacrifice anything and anyone in the search for ultimate control…
Oh this is breaking my heart, I almost didn't want to write this at all, because I really enjoyed the first book and I am a big fan of Rachel Caine. But this one just didn't do it for me. I don't know, there was just something missing for me. While it was filled with action, missions and battles it failed to really grab me.
After everything in the first book everyone is now in their assigned jobs, Jess now being in the army. However they discover that their friend Thomas is not dead, as they have been made to believe, and is instead being held prisoner. Jess and his friends go on the hunt for the truth and the location of their friend. This is one dangerous game for them all and they soon find themselves in all kinds of trouble.
So yes, it is action packed, there is always something going on. But even from the start I found it a little hard to get back into the story. While Morganville Vampire for example had 15 books and I loved them all, here I struggled with the second one. It kinda lost all its charm that it had in the first book. I haven't really bonded with the characters to be fully invested in the story.
While I am a big fan of books that don't purely base their stories on a romance, triangle or heartache, I think this one could have done with some of that. I felt like we just went from one battle to another and another... Don't get me wrong if this is what you like then you will love this. But for me it just wasn't the one.
This will not stop me loving Rachel Caine's work. I hope that in the future I will once more fall in love with her work.
I did manage to finish this book and I don't wanna just finish this review with negative comments. Because it wasn't aaaall bad. The whole idea and world building is still amazing and unique. And it never really got boring in a way, something was always going on. Its not that I hate it, I just didn't love it, when I really wanted too.
Thank you to NetGalley and the publisher for my copy in exchange of my fair and honest review.
Paper and Fire will be released in the USA on the 5th July and UK 21st July.