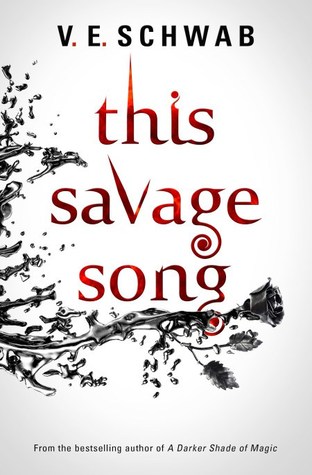 There's no such thing as safe in a city at war, a city overrun with monsters. In this dark urban fantasy from author Victoria Schwab, a young woman and a young man must choose whether to become heroes or villains—and friends or enemies—with the future of their home at stake. The first of two books.

Kate Harker and August Flynn are the heirs to a divided city—a city where the violence has begun to breed actual monsters. All Kate wants is to be as ruthless as her father, who lets the monsters roam free and makes the humans pay for his protection. All August wants is to be human, as good-hearted as his own father, to play a bigger role in protecting the innocent—but he's one of the monsters. One who can steal a soul with a simple strain of music. When the chance arises to keep an eye on Kate, who's just been kicked out of her sixth boarding school and returned home, August jumps at it. But Kate discovers August's secret, and after a failed assassination attempt the pair must flee for their lives.
Schwab has gone and done it again, she has produced another masterpiece. I have been so eager to read this I used my day off for it. But let me tell you, no regrets. I have only just discovered Schwab few weeks back and she has quickly become one of my all time favourite authors.
This is the story of Kate and August who live on the opposite sides of a split city, a city overrun by monsters. One side is letting the monsters run free while the other is protecting it from it. While Kate wants to impress her powerful and ruthless father, August just wants to be good and human. Because August is actually a monster himself, one of a very rare kind. To get close to Kate, in case his family needs her as leverage, August enrols into a human school. Its not long before things turn for the worse for them both and for their city. They soon find themselves running for their life...
This is nothing like Schwab's previous books. While this is younger then the others, this is in no way your standard YA fantasy. There is no love triangle or Romeo and Juliette drama that takes over the whole story. This is once again world building at its very best, I was sucked into this world from the very first page. Kate and August are both incredible characters, both so complex and enjoyable.
This is unlike anything else I have ever read. While so many young adult reads follow a certain pattern this is breath of fresh air. Schwab has proven to us how very versatile her writing talent really is. I couldn't turn the pages fast enough and I found it impossible to put it down. I have completely forgotten the world around me for a whole day.
Once again the ending leaves us eager for the next book, without wanting to throw the book against a wall because it delivered a crazy cliffhanger. Instead it left my imagination going wild of all the things still to come.
Weather you have read any of Schwab's books before or not, or even weather you liked them or not, it doesn't matter... You want to read this book. You really shouldn't give this one a miss. This has gotten 5 stars all the way.
Unique, captivating and completely unforgettable.
This Savage Song will be released on the 7th June in the U.K.
Thank you to Lydia at Titan Books for my copy in exchange for my honest opinion.