Weekly Wrap Up...
After finishing 4 books last week I have only managed one this time. I don't know whats been happening. I have been poorly for 2 days and I just wasn't getting anywhere with my current read. I hope I will manage to finish it tomorrow. But on a positive note I have finished a book I really loved and I have been wanting to read for some time, The Sin Eaters Daughter. My review will hopefully be up tomorrow or latest Tuesday.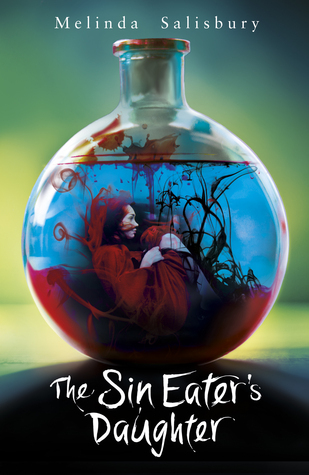 A startling, seductive, deliciously dark debut that will shatter your definition of YA fantasy. Sixteen-year-old Twylla lives in the castle. But although she's engaged to the prince, no one speaks to her. No one even looks at her. Because Twylla isn't a member of the court. She's the executioner.As the goddess-embodied, Twylla kills with a single touch. So each week, she's taken to the prison and forced to lay her hands on those accused of treason. No one will ever love her. Who could care for a girl with murder in her veins? Even the prince, whose royal blood supposedly makes him immune to her touch, avoids her.But then a new guard arrives, a boy whose playful smile belies his deadly swordsmanship. And unlike the others, he's able to look past Twylla's executioner robes and see the girl, not the goddess. Yet a treasonous romance is the least of Twylla's problems. The queen has a plan to destroy her enemies-a plan that requires an unthinkable sacrifice. Will Twylla do what it takes to protect her kingdom? Or will she abandon her duty in favor of a doomed love?
Stacking the Shelves...
I have added two new books to my shelves. One is an ARC of Stealing Snow, which looks and sounds amazing, I went begging for that one, ha ha. I believe its been described as Frozen for Young Adults, I like the sound of that. Thank you to Lizz at Kids Bloomsbury for this amazing book.
My second one is also a Bloomsbury, yay, but this time its a prize from a Maximumpopbooks competition, did I mention I love those guys?? Anyway, its a copy of A Court if Mist and Fury, which I already have, BUT, this one is signed.... eeeeek. Not only that but it also came with this amazing tote bag and a badge, lucky girl right here!!!
Seventeen-year-old Snow has spent the majority of her life within the walls of the Whittaker Institute, a high security mental hospital in upstate New York. Deep down, she knows she's not crazy and doesn't belong there. When she meets a mysterious, handsome new orderly and dreams about a strange twisted tree she realizes she must escape and figure out who she really is.

Using her trusting friend Bale as a distraction, Snow breaks free and races into the nearby woods. Suddenly, everything isn't what it seems, the line between reality and fantasy begins to blur, and she finds herself in icy Algid--her true home--with witches, thieves, and a strangely alluring boy named Kai, none of whom she's sure she can trust. As secret after secret is revealed, Snow discovers that she is on the run from a royal lineage she's destined to inherit, a father more powerful and ruthless than she could have imagined, and choices of the heart that could change the fate of everything...including Snow's return to the world she once knew.

This breathtaking first volume begins the story of how Snow becomes a villain, a queen, and ultimately a hero.
Feyre survived Amarantha's clutches to return to the Spring Court—but at a steep cost. Though she now has the powers of the High Fae, her heart remains human, and it can't forget the terrible deeds she performed to save Tamlin's people.

Nor has Feyre forgotten her bargain with Rhysand, High Lord of the feared Night Court. As Feyre navigates its dark web of politics, passion, and dazzling power, a greater evil looms—and she might be key to stopping it. But only if she can harness her harrowing gifts, heal her fractured soul, and decide how she wishes to shape her future—and the future of a world cleaved in two.

With more than a million copies sold of her beloved Throne of Glass series, Sarah J. Maas's masterful storytelling brings this second book in her seductive and action-packed series to new heights.