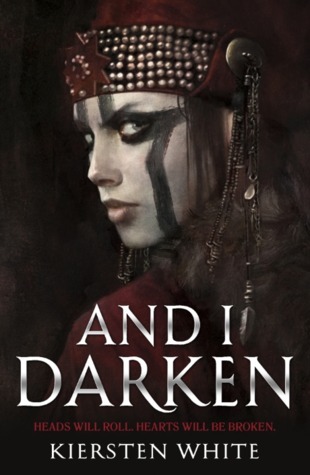 No one expects a princess to be brutal. And Lada Dragwyla likes it that way.

Ever since she and her brother were abandoned by their father to be raised in the Ottoman sultan's courts, Lada has known that ruthlessness is the key to survival. For the lineage that makes her and her brother special also makes them targets.

Lada hones her skills as a warrior as she nurtures plans to wreak revenge on the empire that holds her captive. Then she and Radu meet the sultan's son, Mehmed, and everything changes. Now Mehmed unwittingly stands between Lada and Radu as they transform from siblings to rivals, and the ties of love and loyalty that bind them together are stretched to breaking point.

The first of an epic new trilogy starring the ultimate anti-princess who does not have a gentle heart. Lada knows how to wield a sword, and she'll stop at nothing to keep herself and her brother alive.
It took me some time to finally sit down and start this review, because this is such a intelligent and fascinating book that I am not sure if I can do it justice. But I will have to try. I have been a fan of the Paranormalcy series so I was very eager to get my hands on this one. But this is nothing like her previous books at all. This is a completely new level, its a massive step up.
Lada Dracul is not your average princess, she is ruthless and very unladylike. Forever craving the love and attention of her heartless father, Lada would do anything to get his respect. When Lada and her brother Radu get abandoned by their father and held captive in another court to ensure their fathers cooperation, Lada trains to be a warrior. She is determined to wreak revenge and make her captives pay. However life at a different court isn't all bad and it opens her eyes to her fathers true colours. Not only that but Lada and Radu find friendship in the most unlike place. When all sort of feelings come into play Lada's and Radu's already strained relationship becomes even more complicated. Mehmed soon becomes a huge part in their life and their decision making. Will he steer them off their path or will he help them go in the right direction?
This book is so so intelligent and often challenging my mind in a way I never expected. While I often read very easy reads, books that float smoothly, this one was a little harder to read. But not in a bad way, it just kept me on my toes, claiming my full attention at all times.
The world building is amazing, with many incredible places. What is amazing is how White managed to integrate so much about religion without ever making it in the slightest judgemental. For lack of a better word I found it extremely interesting. In some way it is a twist on something historical, turning it into something very different and dark.
Lada is fierce, dark, strong and determined. She is everything a book heroin should be and so much more. Not your usual damsel in distress that we find so often in books and far from someone waking up and finding themselves to be something powerful. She is just that from the start, without the supernatural. Basically she is totally bad ass and I bloody love her.
Her brother Radu is very much the opposite. Soft, loving, gentle and often scared. But he too is one very interesting character. He grows so much within this story I have come to love him almost as much as Lada. Their relationship is a very complicated one, while they are related they are not always on the same side.
This book got me all kinds of levels of excited. It is completely original, utterly gripping and completely well written. I couldn't turn the pages fast enough. It has completely surprised me several times and has stayed on my mind since. It is dark and gory and beautiful at the same time.
And yes there is some romance involved, but while its rather enjoyable it doesn't take over the story.
I cant recommend this enough. If you are expecting something like Paranormalcy you are in for a bit of a shock. This will keep you up at night and will drag you into its world. Don't pick it up for a quick read, give it your time and your undivided attention and you will not regret it.
And I Darken will be published on 7th July and you need to pre-order it now.
Thank you to Harriet Venn and Penguin Random House for my copy in exchange for my fair and honest review.