WWW Wednesday is a meme hosted by Sam at
Taking on a World of Words
. It's open for anyone to join in and is a great way to share what you've been reading! All you have to do is answer three questions and share a link to your blog in the comments section of Sam's blog.
The three Ws are:
What are you currently reading?
What did you recently finish reading?
What do you think you'll read next?
I am currently reading...
Over ten years since the Nazis won the war, 18 yr old Yael has one mission: to kill Hitler - a captivating second novel from Walled City author, Ryan Graudin.

Once upon a different time, there was a girl who lived in a kingdom of death. Wolves howled up her arm. A whole pack of them-made of tattoo ink and pain, memory and loss. It was the only thing about her that ever stayed the same.Her story begins on a train.

Germania, 1956. Over ten years since the Nazis won the war. 18-year-old Yael is part of the resistance, and she has just one mission: to kill Hitler.

But first she's got to get close enough to him to do it.

Experimented on during her time at Auschwitz, Yael has the unique ability to change her appearance at will. The only part of her which always remains are the five tattooed wolves on her arm; one for each of the people she's lost. Using her abilities, she must transform into Adele Wolfe, Germany's most famous female rider and winner of the legendary Axis Tour; an epic long distance motorcycle race from Berlin to Tokyo, where only the strongest (and wiliest) riders survive. If she can win this, she will be able to get close enough to kill the Fuhrer and change history forever.

But with other riders sabotaging her chances at every turn, Yael's mission won't be easy. . .
I have recently finished...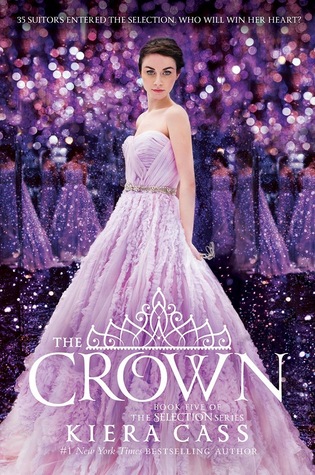 When Eadlyn became the first princess of Illéa to hold her own Selection, she didn't think she would fall in love with any of her thirty-five suitors. She spent the first few weeks of the competition counting down the days until she could send them all home. But as events at the palace force Eadlyn even further into the spotlight, she realizes that she might not be content remaining alone.

Eadlyn still isn't sure she'll find the fairytale ending her parents did twenty years ago. But sometimes the heart has a way of surprising you…and soon Eadlyn must make a choice that feels more impossible—and more important—than she ever imagined.
I plan on reading next...
Feyre survived Amarantha's clutches to return to the Spring Court—but at a steep cost. Though she now has the powers of the High Fae, her heart remains human, and it can't forget the terrible deeds she performed to save Tamlin's people.

Nor has Feyre forgotten her bargain with Rhysand, High Lord of the feared Night Court. As Feyre navigates its dark web of politics, passion, and dazzling power, a greater evil looms—and she might be key to stopping it. But only if she can harness her harrowing gifts, heal her fractured soul, and decide how she wishes to shape her future—and the future of a world cleaved in two.

With more than a million copies sold of her beloved Throne of Glass series, Sarah J. Maas's masterful storytelling brings this second book in her seductive and action-packed series to new heights.