So I've had a really busy week, I have DNF and one crazy but amazing birthday weekend. Including Disney on Ice on Friday, day at the seaside in Blackpool on Saturday and shopping on Sunday. Plus managed to visit some friends and had some guests too, Which resulted in me only finishing one book. Which I am on the blog tour for so there is also no new reviews this week. Sorry about that. The book I have finished is Unrivaled by Alyson Noel. I loved her Evermore series and was really eager to read this. I will be on the blog tour on may 16th.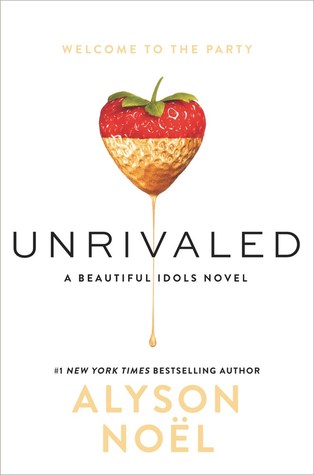 Everyone wants to be someone.

Layla Harrison wants to leave her beach-bum days for digs behind a reporter's desk. Aster Amirpour wants to scream at the next casting director who tells her "we need ethnic but not your kind of ethnic." Tommy Phillips dreams of buying a twelve-string guitar and using it to shred his way back into his famous absentee dad's life.

But Madison Brooks took destiny and made it her bitch a long time ago.

She's Hollywood's hottest starlet, and the things she did to become the name on everyone's lips are merely a stain on the pavement, ground beneath her Louboutin heel.

That is, until Layla, Aster, and Tommy find themselves with a VIP invite to the glamorous and gritty world of Los Angeles's nightlife and lured into a high-stakes competition where Madison Brooks is the target. Just as their hopes begin to gleam like stars through the California smog, Madison Brooks goes missing. . . . And all of their hopes are blacked out in the haze of their lies.
Stacking the Shelves...
Now while my weekly wrap up is rather short this one is the opposite. Since its my birthday today I have added lots of new books to my shelves. YAY!!! Can I have a birthday more often?
I have finally gotten the Lunar Chronicles series by Marissa Meyer. I have been wanting this for soooo long.
Also got the new Clockwork Angel and Clockwork Princess... However my Clockwork Prince is still on its way. I cant wait to have them all on my shelf right next to The Mortal Instruments. So beautiful, they will have the best spot for sure.
My A Court of Mist and Fury has come with all my bday books. Sooooooo cant wait to get started on this. Also received An Amber in the Ashes and The Star Touched Queen. Ahhh I love a good bday when you can finally get all the books you have been eying up for ages too.
Not all have been birthday presents this week tho. I have also won The Crown on twitter via Maximumpopbooks. I love this account, I have read the previous books and for some reason I haven't had chance to read the last one yet. But I will asap now to review it for Maximumpopbooks. Thank you so much.