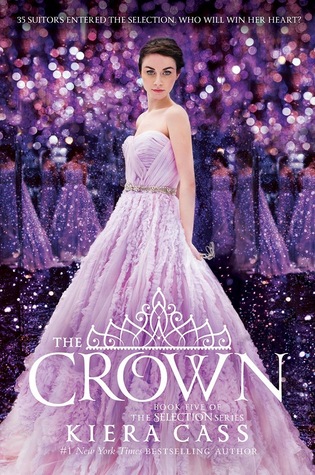 When Eadlyn became the first princess of Illéa to hold her own Selection, she didn't think she would fall in love with any of her thirty-five suitors. She spent the first few weeks of the competition counting down the days until she could send them all home. But as events at the palace force Eadlyn even further into the spotlight, she realizes that she might not be content remaining alone.

Eadlyn still isn't sure she'll find the fairytale ending her parents did twenty years ago. But sometimes the heart has a way of surprising you…and soon Eadlyn must make a choice that feels more impossible—and more important—than she ever imagined.
Now let me begin by telling you I didn't like The Heir, which is the book before this one and the first one about Eadlyn. That was mainly because I didn't like Eadlyn, I found her very spoiled and annoying. So I haven't bought the next book by myself, however I won a review copy with Maximumpopbooks so I gave it a go. Fully expecting to still dislike Eadlyn, only to be proven wrong.
Eadlyn is still in the middle of her selection, after her mother suffers a heart attack however she reduces the number down to just the Elite. While her mother is recovering, her father is by her bedside at all times. Which means Eadlyn has to take on more responsibilities. With little time for the boys left in the selection the choice isn't easy. And it seems like she is running out of time. She will have to make a choice very soon. But how will she choose? And will she make the right choice? Can Eadlyn handle the responsibilities and the selection?
This book has really saved the series for me. While I enjoyed the first 3 books I wasn't a fan of The Heir. I honestly thought I would never finish it and I was happy with that. But now I am glad that I did. In this book Eadlyn just blossoms and completely changes. From the spoiled little brat to the strong amazing and beautiful princess. I have gone from disliking her to really loving her character. While I think the selection and the romance have taken a step back in this one, I don't mind at all.
There was only ever two boys, in my opinion, who stood a chance to win the selection. While it was obvious to me who its going to be I do like the little twist and I love how she has dealt with it all.
All in all this has been a very sweet and easy little read. With a lovely and satisfying ending.
While its not a mindblowing story it was still very enjoyable, I still love the world building and the idea of the selection. I really enjoyed the characters and all the pretty dresses.
If you have enjoyed any of the books before this one then you should certainly finish this series. The Crown closes the series beautifully.
Thank you to Maximumpopbooks for my stunning copy.

The Crown is out TODAY in paperback!