Weekly Wrap Up...
I have managed to read 4 books this week, yep 4! This is actually really good for me who normally manages only 2. The fact I am off work right now and my daughter had 2 sleepovers obviously helped. Not only did I manage to read 4 books but it was 4 really good books too. The first one being an early copy of Stealing Snow, which was a great sort of fairy tale, the 2nd was Songs About a Girl which has easily become one of my favourite reads this year, 3rd was The Sleeping Prince and i am so glad i have finally picked that up and last but not least was an early copy of Dear Charlie which is a book that could start some very serious debates.
Seventeen-year-old Snow lives within the walls of the Whittaker Institute, a high security mental hospital in upstate New York. Deep down, she knows she doesn't belong there, but she has no memory of life outside, except for the strangest dreams. And then a mysterious, handsome man, an orderly in the hospital, opens a door – and Snow knows that she has to leave …
She finds herself in icy Algid, her true home, with witches, thieves, and a strangely alluring boy named Kai. As secret after secret is revealed, Snow discovers that she is on the run from a royal lineage she's destined to inherit, a father more powerful and ruthless than she could have imagined, and choices of the heart that could change everything. Heroine or villain, queen or broken girl, frozen heart or true love, Snow must choose her fate …
A wonderfully icy fantastical romance, with a strong heroine choosing her own destiny, Danielle Paige's irresistibly page-turning Snow Queen is like
Maleficent
and
Frozen
all grown up.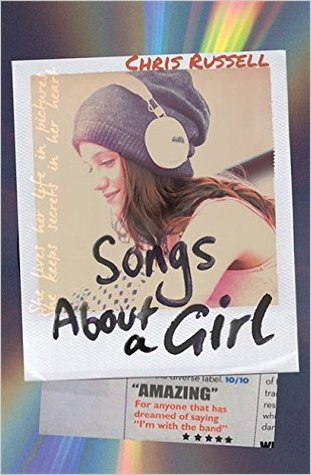 Charlie Bloom never wanted to be 'with the band'. She's happiest out of the spotlight, behind her camera, unseen and unnoticed. But when she's asked to take backstage photos for hot new boy band Fire&Lights, she can't pass up the chance.

Catapulted into a world of paparazzi and backstage bickering, Charlie soon becomes caught between gorgeous but damaged frontman, Gabriel West, and his boy-next-door bandmate Olly Samson. Then, as the boys' rivalry threatens to tear the band apart, Charlie stumbles upon a mind-blowing secret, hidden in the lyrics of their songs...
Return to the darkly beautiful world of The Sin Eater's Daughter with a sequel that will leave you awed, terrified . . . and desperate for more.

Ever since her brother Lief disappeared, Errin's life has gone from bad to worse. Not only must she care for her sick mother, she has to scrape together rent money by selling illegal herbal cures. But none of that compares to the threat of the vengeful Sleeping Prince whom the Queen just awoke from his enchanted sleep.

When her village is evacuated as part of the war against the Sleeping Prince, Errin is left desperate and homeless. The only person she can turn to is the mysterious Silas, a young man who buys deadly poisons from Errin, but won't reveal why he needs them. Silas promises to help her, but when he vanishes, Errin must journey across a kingdom on the brink of war to seek another way to save her mother and herself. But what she finds shatters everything she believed about her world, and with the Sleeping Prince drawing nearer, Errin must make a heartbreaking choice that could affect the whole kingdom.
Death should never meet the young. But it did. Thanks to my brother, death made fourteen new friends that day. Maybe even fifteen, if you count Charlie.

At sixteen, Sam Macmillan is supposed to be thinking about girls, homework and his upcoming application to music college, not picking up the pieces after the school shooting that his brother Charlie committed.

Yet as Sam desperately tries to hang on to the memories he has of his brother, the media storm surrounding their family threatens to destroy everything. And Sam has to question all he thought he knew about life, death, right and wrong.
Stacking the Shelves...
This week has been a really good one for my shelves. I have treated myself to some kindle books in the sale, one of which I already own but I didn't want to take the physical copy on holiday. Red Rising is one I have been wanting to read for a while so snapping it up got 99p was great. I hear a lot of great things about the Did I Mention that I... series so added those too. And An Amber in the Ashes is the book I already own, that I will hopefully finally finish on holiday.
The amazing Nazia at Little Brown has emailed me The Girl Who Cried Wolf which looks and sounds amazing, thank you.
Cara at HQ Young Adult has send me The Deviants, which I have been eyeing up since YALC, everyone is raving about this one and i cant wait to read it, thank you so much. Funny enough I also received it on NetGalley so its coming on holiday with me.
You know what's even better then book post? Surprise book post, Louis Lane Double Down was a massive surprise, thank you Georgia and Curious Fox, I have loved the first one and have already started this one now.
And to finish this week offm GEMINA arrived!! I literally squeeled. Been trying to get my hands on that for months. Eeeeeek thank you so much OneWorld Publication for this absolute beauty. If I wasn't scared of the sun destroying it I would already be reading it right now.
I also still have to pick up one parcel from DPD in Leeds, which is a bit of a nuisance but I couldn't have it redelivered and it might have been send back to the sender if I left it there while on holiday.