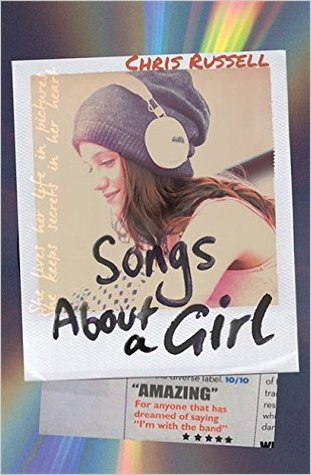 Charlie Bloom never wanted to be 'with the band'. She's happiest out of the spotlight, behind her camera, unseen and unnoticed. But when she's asked to take backstage photos for hot new boy band Fire&Lights, she can't pass up the chance.

Catapulted into a world of paparazzi and backstage bickering, Charlie soon becomes caught between gorgeous but damaged frontman, Gabriel West, and his boy-next-door bandmate Olly Samson. Then, as the boys' rivalry threatens to tear the band apart, Charlie stumbles upon a mind-blowing secret, hidden in the lyrics of their songs...
OMG!!! I don't know where to begin! I freaking loved this book!! All the stars... all of them, everywhere. When my best friend was raving to me about this book I knew I would like it too, but this has been so much more then I expected.
Charlie Bloom likes to be invisible and with her best friend. She lives with her dad and she loves to take pictures. And while everyone is crazy for the new hot boy band Fire&Lights, Charlie couldn't really care less. She still remembers one of the band members, Olly, from when he used to go to their school. But what she never expected is for Olly to contact her and invite her backstage to take some pictures of the band. Completely against it at first, Charlie is convinced by her best friend and suddenly finds herself not only backstage at a huge concerts, but she soon turns into a fan herself. Charlie spends a lot of time with Olly but also finds herself completely drawn to Gabriel. But its when Charlie hears the bands new songs that everything becomes complicated and Charlie has to know exactly where those words have come from... Being so close to one of the biggest bands around also comes with a price and Charlie will have to find out the hard way.
Oh my... my poor fangirl heart. I am far from 17 now, but after reading this i really wish i was again. I have spend my teenage years loving all sort of boybands and let me tell you it was a good time for boybands back then. Some of my favourite memories involve my favourite music and I still love a concert and certain artists very much. This book is like a dream come true. But this is so so far from fan fiction. Its so much deeper then that. Its not just about a girl who falls for a pop star. Its about family, friendship, loss and bullying. It shows not only the glitzy side of fame but also the dark side, weather its for the artist themselves or the people around them.
I seriously couldn't put this down and finished it in less then 24 hours. I was completely drawn into the world of pop stars and concerts. Russell obviously knows what he is talking about, the way he describes the feel of a full arena is so perfect I almost felt like I was there myself. I love all the characters, the chemistry in the band and Charlie and her best friend. I am completely in love with Olly and Gabriel myself.
The secret around the songs lyrics just adds to the excitement of the book and works towards a very jaw dropping end. An end that leaves you wanting more. Oh please don't make us wait to long! I need the next book and I need it right now.
This has been one of my favourite books this year by far and I want to reread it already. And I don't do that kind of thing, ever.
Highly addictive, utterly charming and impossible to put down. This book will transport you some place else and make you forget everything around you. From the beginning till the end you will want to be with the band.
Thank you so much to Lauren and Hachette Children for my copy.