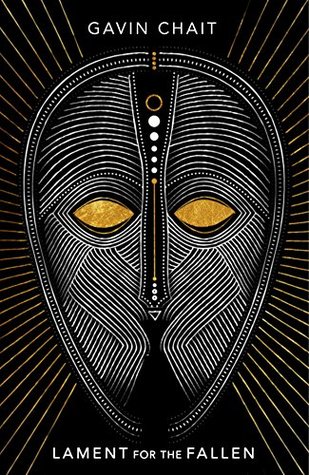 'Father, tell me a story?' asks Isaiah, moments before a strange craft falls from the sky and smashes into the jungle near his isolated West African community. Inside the ruined vessel the villagers find the shattered body of a man. His name is Samara and he is a man unlike any the villagers have seen before - a man who is perhaps something more than human.

With his city home of Achenia hiding in the rubble left by a devastating war, Samara has fallen 35,000 km to earth in order to escape the automated hell of an orbiting prison called Tartarus. As he struggles to heal himself, he helps transform the lives of those who rescued him but in so doing attracts the attention of the brutal warlord who rules over this benighted, ravaged post-21st century land. He is not a man to be crossed, and now he threatens the very existence of the villagers themselves and the one, slim chance Samara has of finding his way home and to the woman - and the world - he loves.

And all the while - in the darkness above - waits the simmering fury that lies at the heart of Tartarus.
I have been approached by the publisher about this book and i really liked the blurb. I'll be honest I didn't quite expect it to be this much of science fiction, so much so that there was some parts i didn't quite understand, but even tho this isn't really my thing I ended up enjoying it quite a bit.
This is the story of an amazing West African community and Samara who literally falls from the sky. The people in the Village take care of him and hide all traces of his arrival. Samara escaped from Tartarus, a horrible, nightmarish prison. He is now needing to return home and for that he needs the help of the people in the village. During his stay Samara tells many stories, stories like nobody has ever heard before. But Samaras stay in the Village brings danger for all the people. Will he be able to return home?
There was a lot of almost technical details that I just couldn't follow, its not my thing and I certainly know nothing about it. But take that away and this has been a wonderful story. A story about doing the right thing and inspiring people to try something new. Samara not only wants to get home but he wants to end the horrible prison and take away the power of the people who put it there. What I enjoyed a lot is Samara showing everyone the power of a story, inspiring everyone around to tell their own.
All in all I have enjoyed this book, its different from anything else I have ever read. I have sailed through it and it has totally surprised me. Also as a big fan of covers this one is really worth mentioning, it really stands out and I absolutely love it.
Surprising, inspiring and futuristic.
Lament for the Fallen has been published on 28th July by Transworld Books, thank you Thomas for my copy.