WWW Wednesday is a meme hosted by Sam at
Taking on a World of Words
. It's open for anyone to join in and is a great way to share what you've been reading! All you have to do is answer three questions and share a link to your blog in the comments section of Sam's blog.
What are you currently reading?
What did you recently finish reading?
What do you think you'll read next?
I am currently reading...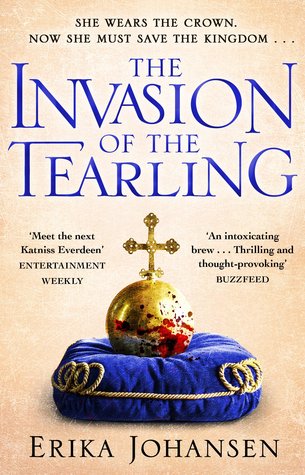 With each passing day, Kelsea Glynn is growing into her new responsibilities as Queen of the Tearling. By stopping the shipments of slaves to the neighbouring kingdom of Mortmesne, she crossed the Red Queen, a brutal ruler whose power derives from dark magic, who is sending her fearsome army into the Tearling to take what is hers. And nothing can stop the invasion.
But as the Mort army draws ever closer, Kelsea develops a mysterious connection to a time before the Crossing, and she finds herself relying on a strange and possibly dangerous ally: a woman named Lily, fighting for her life in a world where being female can feel like a crime. The fate of the Tearling – and that of Kelsea's own soul – may rest with Lily and her story, but Kelsea may not have enough time to find out.
In this dazzling sequel to her bestselling debut The Queen of the Tearling, Erika Johansen brings back favourite characters, including the Mace and the Red Queen, and introduces unforgettable new players, adding exciting layers to her multidimensional tale of magic, mystery and a fierce young heroine.
I have recently finished...
Seventeen year-old Britta Flannery is at ease only in the woods with her dagger and bow. She spends her days tracking criminals alongside her father, the legendary bounty hunter for the King of Malam—that is, until her father is murdered. Now outcast and alone and having no rights to her father's land or inheritance, she seeks refuge where she feels most safe: the Ever Woods. When Britta is caught poaching by the royal guard, instead of facing the noose she is offered a deal: her freedom in exchange for her father's killer.

However, it's not so simple.

The alleged killer is none other than Cohen McKay, her father's former apprentice. The only friend she's ever known. The boy she once loved who broke her heart. She must go on a dangerous quest in a world of warring kingdoms, mad kings, and dark magic to find the real killer. But Britta wields more power than she knows. And soon she will learn what has always made her different will make her a daunting and dangerous force.
I plan on reading next...
In less than a year, Kelsea Glynn has transformed from a gawky teenager into a powerful monarch.

As she has come into her own as the Queen of the Tearling, the headstrong, visionary leader has also transformed her realm. In her quest to end corruption and restore justice, she has made many enemies - including the evil Red Queen, her fiercest rival, who has set her armies against the Tear.

To protect her people from a devastating invasion, Kelsea did the unthinkable - she surrendered herself and her magical sapphires to her enemy, and named the Mace, the trusted head of her personal guards, Regent in her place. But the Mace will not rest until he and his men rescue their sovereign from her prison in Mortmesne.

Now the endgame begins and the fate of Queen Kelsea - and the Tearling itself - will finally be revealed . . .