Weekly Wrap Up...
I have finished 3 books this week, yay!! However I have also DNF one, which I still find kind of hard esp when the publisher is so kind to send you a copy. Here are the books I have finished this week...
Victoria Walters' debut novel is a powerful tale of love, grief and survival, perfect for fans of
Cecelia Ahern, Lucy Dillon and Miranda Dickinson. 'Brilliant and superior women's fiction'
Heat
In the Cornish town of Talting, everyone is famous for something.

Until recently Rose was known for many things: her infectious positivity; her unique artistic talent; and her devotion to childhood sweetheart Lucas.

But two years ago that changed in one unthinkable moment. Now, Rose is known for being the young woman who became a widow aged just twenty-four.

Though Rose knows that life must go on, the thought of carving out a new future for herself is one she can barely entertain. Until a newcomer, Robert, arrives in Talting for the summer...

Can Rose allow herself the chance to love again?
You love your family. They make you feel safe. You trust them. Or do you…?

When fifteen-year-old Billy Wilkinson goes missing in the middle of the night, his mother, Claire Wilkinson, blames herself. She's not the only one. There isn't a single member of Billy's family that doesn't feel guilty. But the Wilkinson's are so used to keeping secrets from one another that it isn't until six months later, after an appeal for information goes horribly wrong, that the truth begins to surface.

Claire is sure of two things – that Billy is still alive and that her friends and family had nothing to do with his disappearance.

A mother's instinct is never wrong. Or is it?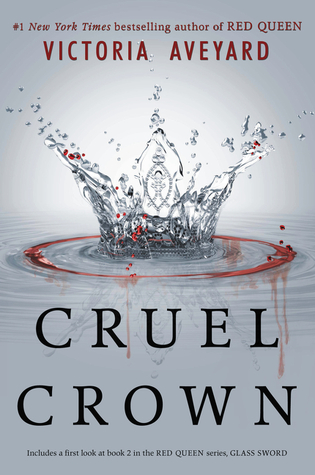 Two women on either side of the Silver and Red divide tell the stories no one else knows.

Discover the truth of Norta's bloody past in these two revealing prequels to #1

New York Times

bestseller

Red Queen

.





Queen Song



Queen Coriane, first wife of King Tiberias, keeps a secret diary—how else can she ensure that no one at the palace will use her thoughts against her? Coriane recounts her heady courtship with the crown prince, the birth of a new prince, Cal, and the potentially deadly challenges that lay ahead for her in royal life.


Steel Scars



Diana Farley was raised to be strong, but being tasked with planting the seeds of rebellion in Norta is a tougher job than expected. As she travels the land recruiting black market traders, smugglers, and extremists for her first attempt at an attack on the capital, she stumbles upon a connection that may prove to be the key to the entire operation—Mare Barrow.
Stacking the Shelves...
I have added 7 books to my shelf this week, the amazing Hex, which I have received from the publisher through Bookbridgr and the boxset of The Mortal Instruments. The Mortal Instruments is my all time favourite series and I own them all in different sizes. This box set will look stunning on my bookshelf. If I ever find the time, I really want to reread them all. One day...
Whoever is born here, is doomed to stay 'til death. Whoever settles, never leaves.

Welcome to Black Spring, the seemingly picturesque Hudson Valley town haunted by the Black Rock Witch, a 17th century woman whose eyes and mouth are sewn shut. Muzzled, she walks the streets and enters your homes at will. She stands next to your bed for nights on end. Everybody knows that her eyes may never be opened.

The elders of Black Spring have virtually quarantined the town by using high-tech surveillance to prevent their curse from spreading. Frustrated with being kept in lockdown, the town's teenagers decide to break their strict regulations and go viral with the haunting, but in so doing send the town spiraling into the dark, medieval practices of the past.
When fifteen-year-old Clary Fray heads out to the Pandemonium Club in New York City, she hardly expects to witness a murder― much less a murder committed by three teenagers covered with strange tattoos and brandishing bizarre weapons. Then the body disappears into thin air. It's hard to call the police when the murderers are invisible to everyone else and when there is nothing―not even a smear of blood―to show that a boy has died. Or was he a boy?

This is Clary's first meeting with the Shadowhunters, warriors dedicated to ridding the earth of demons. It's also her first encounter with Jace, a Shadowhunter who looks a little like an angel and acts a lot like a jerk. Within twenty-four hours Clary is pulled into Jace's world with a vengeance, when her mother disappears and Clary herself is attacked by a demon. But why would demons be interested in ordinary mundanes like Clary and her mother? And how did Clary suddenly get the Sight? The Shadowhunters would like to know...

Exotic and gritty, exhilarating and utterly gripping, Cassandra Clare's ferociously entertaining fantasy takes readers on a wild ride that they will never want to end.