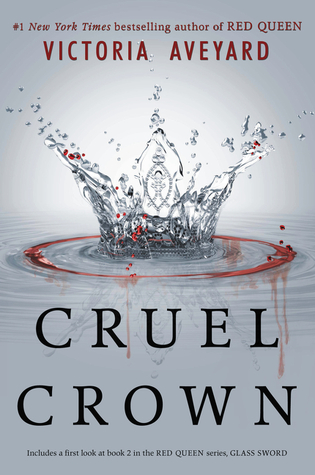 Two women on either side of the Silver and Red divide tell the stories no one else knows.

Discover the truth of Norta's bloody past in these two revealing prequels to #1 New York Times bestseller Red Queen.

Queen Song

Queen Coriane, first wife of King Tiberias, keeps a secret diary—how else can she ensure that no one at the palace will use her thoughts against her? Coriane recounts her heady courtship with the crown prince, the birth of a new prince, Cal, and the potentially deadly challenges that lay ahead for her in royal life.

Steel Scars

Diana Farley was raised to be strong, but being tasked with planting the seeds of rebellion in Norta is a tougher job than expected. As she travels the land recruiting black market traders, smugglers, and extremists for her first attempt at an attack on the capital, she stumbles upon a connection that may prove to be the key to the entire operation—Mare Barrow.
I am a huge fan of this series and while I am normally not into novellas I really wanted to read this one. Cruel Crown includes two very different stories. The first one, Queen song, takes us way back, years before the events of Red Queen and tells the story of Cal's mother. This one I found very very interesting and I loved to get to know his mother. It kind of explains a lot about Cal and makes it even easier to understand him. I was rather sad when the story finished.
The second story, Steel Scars, starts just before the events of Red Queen, and tells the story of Farley and also Shade. It gives us inside of how Farley began to help the rebellion and how she has found Shade. Just as I thought it was getting really interesting tho this one finished quickly. Suppose its because it caught up with Red Queen, but I wanted to read on. The one thing I didn't enjoy was the messages between commanders and Farley and others. I didn't always understand them and found they slowed my reading down.
Both stories couldn't have been more different. However as much as they took us back to reveal events before Red Queen I don't think they necessary add anything important to the main story. They both finished to quickly for my liking too, but that's probably because I haven't much experience with novellas.
I don't think you need to add Cruel Crown to your collection, however if you are a big fan and want something that will tie you over till the next book in the series then you should go for it and read this one too.
This was a nice and quick read between two other books.
It also adds a preview of Glass Sword which I haven't read as I have already finished this book.
Thank you to NetGalley and the publisher for my copy in exchange for my honest opinion.
Cruel Crown will be published 21st April.